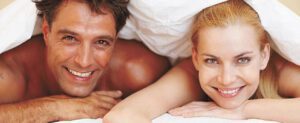 There are two secrets that are starting to gain more attention due to their ability to treat the root cause of erectile dysfunction. And when they are coupled together, the results are remarkable, and numerous men and their partners are clamoring to find out more.
With these two alternative treatment options, you can kiss the little blue pill goodbye—forever.
For men between the ages of 40 to 70, erectile dysfunction is extremely common. It's critical to see a medical professional if you are experiencing difficulty in getting and maintaining an erection, but most physicians will not try to get to the root cause of your condition.
The standard treatments for erectile dysfunction are prescription medications that cause an erection for a limited amount of time. However, there is a better way than the standard of care that actually TREATS erectile dysfunction at its core. These are GAINESWave and the P-Shot.
WHAT IS GAINESWave?
The GAINSWave is a revolutionary, non-invasive treatment that addresses the underlying causes of ED. GAINSWave uses scientifically proven technology through sound waves to stimulate blood circulation, tissue regeneration, and removes plaque build-up. Traditional treatments for ED, such as pills or injections, lose effectiveness over time and have to be used every time a man wants to engage in sexual activity. GAINSWave helps men to feel like themselves again and to enjoy their lives.
GAINSWave utilizes high frequency, low-intensity soundwaves to improve blood flow to the penis, remove micro-plaque, and stimulates the growth of new blood vessels. GAINSWave uses a specific protocol designed to optimize efficacy, safety, and results. Over 80% of Erectile Dysfunction (ED) issues are caused by reduced blood flow. GAINSWave has developed a protocol to treat ED and Peyronie's disease (scar tissue) as well as enhance sexual performance.
WHAT IS THE P-Shot?
The P-Shot is a spun down platelet rich plasma that is taken from the patient's own blood and injected into the penis. The P-Shot is comprised of the patient's stem cells that stimulate new tissue growth, collagen formation. Because it's not a foreign substance, the body accepts it naturally, and the results are amazing. Stem cells have the potential to differentiate into many different types of cells and can serve as an internal repair system, which can replace damaged tissue and help to regenerate new healthy tissue and cells.
The P-Shot also helps men with Peyronie's disease by stimulating circulation and lessening the scar tissue associated with the disorder. No longer do men have to rely on the tiny blue pill that causes so many adverse side effects. Now, there is a safe, natural alternative to help so many men with ED and Peyronie's disease.
Added Benefits
GAINESWave and the P-Shot also helps men with Peyronies disease by stimulating circulation and removing the plaque and scar tissue associated with the disorder.
If you want drug-free alternative options for your health needs, TNT treats both male and female patients who desire alternative therapies to get to the root cause of their conditions.
Total Nutrition & Therapeutics
At TNT, their goal is to empower you to achieve your optimal state of health. Their vision is to create a wellness mindset momentum that is infectious—leaving obesity, illness, and disease behind—for lives that are truly healthy. Looking better, feeling better and functioning optimally is the key to a life of vitality! Let them help you achieve wellness for life!
TNT offers free monthly seminars to find out more about GAINESWave and the P-Shot.
Call them to day to schedule your appointment at (352) 259-5190.
Contact us for a free consult with our gainswave provider!
Call them to day to schedule your appointment at (352) 259-5190.
Total Nutrition and Therapeutics
809 Hwy 466 Unit 202-C
Lady Lake, FL 32159
352.259.5190
www.TNT4ME.COM