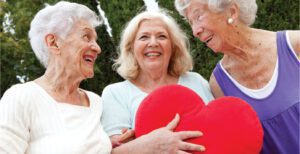 We hear so much about love this time of year, but how in tune are you with the importance of loving yourself enough to live your healthiest life? Many people struggle with this philosophy and don't feel like they have the time, willpower, or fortitude to embark on or follow through with health and fitness. We have a few tips to get you motivated and, on your way,—it's never too late!
Tips For Meeting Your Health Goals
Speaking to your health care provider is critical before starting any new exercise or making dietary changes.
#1 Exercise
Exercise is an integral part of daily life because it keeps our blood circulating, improves muscular definition, and prevents muscle atrophy. Exercise is good for our hearts, cardiovascular systems, and our brains.
Studies have shown that regular exercise prevents or reduces the severity of chronic diseases such as cardiovascular disease, diabetes, cancer, hypertension, obesity, depression and osteoporosis, and premature death.1
Many studies are purporting the benefits of exercise to alleviate the onset or slow the progression of cognitive decline. Many researchers agree that just 30 minutes of aerobic exercise 4 to 5 times per week is known to improve cognition and can even reduce atrophy in the brain.
#2 Diet
While both are critical for overall health, what we eat is equally or, in some cases, more important than exercise. Studies have indicated that those who eat lean proteins, vegetables, fruit, legumes, nuts, and seeds have healthier lives throughout the aging process. If individuals are eating healthy foods, avoiding processed meats and packaged foods, limiting sugars and unnecessary convenient foods, they are much healthier than their peers in most cases.
It only makes sense that what we put into our bodies helps it to function efficiently or hinders it's cellular processing and renewal. Hippocrates was correct when he said, "Let food be thy medicine and let medicine be thy food."
Those who consume the majority of their meals by eating whole, nutritious plants and lean proteins (animal or plant-based), they are, for the most part eliminating inflammation and reducing sugar spikes and therefore warding off chronic disease.
Are we saying you can never have a piece of cake or a slice of pizza? No. However, most experts agree that it's best to limit junk food or processed foods to a minimum or enjoy them on special occasions. Once people start eating healthy, their taste and cravings usually change, and they begin to love whole, nutritious foods.
#3 Eliminating Stress
Easier said than done sometimes, limiting stress and anxiety is essential for your overall health. Untreated stress can lead to numerous chronic health conditions. It might be difficult, but carving out time to relax, take a bath, take a walk or simply shut yourself in a separate room for 10 minutes to do deep breathing exercises can reduce anxiety significantly, and over time, you will most likely notice that these personal care methods will help you to become calmer throughout the day.
To overcome stress, we need a well-rounded treatment protocol that incorporates medication (if necessary), stress management, nutrition, high-quality sleep, exercise, meditation, hormone balancing, and other therapies to help stabilize our body and brain.
Aston Gardens is one of the most highly sought after communities due to their dedication to senior needs, their commitment to enriching the lives of each resident and their families by providing personalized care, welcoming living spaces, and superior amenities within three distinct tiers, which include independent living, assisted living, and memory care facilities.
Want to know why so many people choose to live at Aston Gardens? It's the resort-style life, the caring staff, friendly community, and attention to detail that makes Aston Gardens surpass expectations.
Amenities
• Grande Ballroom
• Elegant Main Dining Room (5-Star)
• Private Dining Room
• Elegant Terraces and Outdoor Entertaining Spaces
• Heated Swimming Pool
• Lush Landscaping
• Senior-Equipped Fitness Center
• Library and Business Center
• Card and Game Rooms
• Activity Center
• Beauty Salon and Barber Shop
• Lounge
• Inviting Living Rooms and Common Areas Throughout
• Mail Room
• Concierge
• Full-Time Activities Director
• Themed Parties and Dances
• Educational Seminars
• Craft and Hobby Classes
• Card and Game Clubs
• Fitness and Wellness Programs
• Local Outings Around Town
• And so much more
References:
1. D. Warburton, Health benefits of physical activity: the evidence,
CMAJ. 2006 Mar 14; 174(6): 801–809. doi: 10.1503/cmaj.051351,
https://www.ncbi.nlm.nih.gov/pmc/articles/PMC1402378/
Aston Gardens At Tampa Bay
Aston Gardens is a luxury senior living community offering the best combinations of active-adult lifestyles and personalized care services. Wake up inspired each morning with a wealth of amenities, activities, and support at your doorstep. Explore the stylish Grande Clubhouse and indulge in our unique lifestyle services: Sensations Dining, Celebrations Activities and Dimensions Wellness. Let our dedicated team members handle transportation, maintenance, housekeeping, concierge services and more. Here you will find compassionate people engaged in enriching the lives of seniors, ensuring their needs are taken care of every day. Aston Gardens At Tampa Bay offers the best value in affordable, carefree, senior living. Everything we do is focused on providing you the very best in senior living. It's all right here!
See why so many people want to call
Aston Gardens their home!
Call 813-343-4673 today or visit astongardens.com.