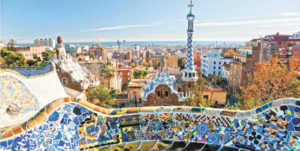 Whether you've been to Europe in the past or if you're making the decision to finally book your dream vacation there, it can be overwhelming. Deciding where to go, how long to stay and what to see are easier to choose when an expert traveler can give you advice. That's where YMT vacations outshines the rest.
Make your dreams a reality by booking an affordable, guided European tour. YMT offers plenty of options! Cruise down the Rhine, or through the heart of French wine country. Explore historic castles in Britain, witness the lush Irish landscape, visit the valuable treasures of the Vatican, savor the wine culture of Spain and Portugal, and travel the same paths as ancient gods and kings in Greece. YMT gives you a unique European experience with guides to answer all your questions and manage logistics. You can focus on what matters most – enjoying your vacation. Whether you book a land tour, a combined cruise and land package, or one of our Transatlantic cruises, there is no better time to enjoy guided tours of Europe.
One of the ways to see many countries in one trip is on a cruise and YMT vacations has put together a new elite European travel option for their clients.
YMT's Grand European Cruise includes:
Barcelona Spain
Barcelona is a thoroughly modern city where Roman ruins live next door to sophisticated high-rises, innovative exhibition spaces, and one of the world's leading sports complexes. A spectacular display of architecture, Barcelona boasts 8 UNESCO World Heritage Sites, as well as a long, sandy coastline, fabulous food, cultural and artistic exhibitions, and terrific shopping. Use your time in this fascinating port to enjoy the world-famous Las Ramblas, Gaudí's Sagrada Familia, Olympic Park, and views from Montjuic.
Lisbon Portugal
Lisbon is watched over by 7 picturesque hills whose view of an ancient city with cobblestoned streets and stately ruins combined with a modern metropolis is one of Europe's prettiest. Be sure to sample the variety of fresh seafood and succulent Alentejan beef served at local restaurants.
Porto Portugal
One of Portugal's oldest cities. Its historic center has been named a UNESCO World Heritage Site, and is the perfect place to sample a glass of port wine-named after Porto itself.
Bruges Belgium
Bruges, home to some of the world's best preserved Medieval architecture, as well known for its chocolate and waffles.
Amsterdam Netherlands
Discover the charm of the renowned Amsterdam canals, which provide an ideal vantage point to see the city's wonderful architecture. The capital of the Netherlands, Amsterdam is widely considered to be one of Europe's most sophisticated cities.
Cologne Germany
one of Germany's most important metropolitan regions. You'll learn about this former Roman province and influential medieval and Renaissance era trade base that was nearly wiped out during WWII. Virtually all of Cologne's buildings were built after the war, and the landscape is characterized by simple and modest post-war buildings, with just a few pre-war buildings that were either rebuilt or miraculously untouched during Allied air raids. You'll also visit the spectacularly spired Cathedral Church of Saint Peter, a UNESCO World Heritage Site and Germany's most visited landmark!
YMT Vacations
If you're looking for the best choice in affordable travel, look no further than YMT Vacations! Since 1967, they have provided guests with affordable, fully-escorted tour and cruise tour vacations to Hawaii, Alaska, Europe, and beyond. Their goal is to take you to the destinations of your dreams and give you an incredible experience to last a lifetime, all at a price that fits your budget.
YMT offers their guests a wide variety of the best in affordable vacation packages, carefully curated by their team to reflect the interests of modern, mature travelers. Their hassle-free packages include hotels, sightseeing, baggage handling, and expert Tour Directors and driver guides. They obtain excellent rates that they can then pass on to their valued guests. YMT can even book your roundtrip airfare, and they throw in transfers to and from the airport for free!
At YMT Vacations, you get more than just incredible value, you get to be part of a community. On your vacation, you'll connect with new destinations and cultures, with Tour Directors, and with your fellow YMT travelers. They have served over one million travelers through our time-tested tours, and nearly half of their customers are repeats or referrals!
Let YMT show you why they truly are the best travel value available. What are you waiting for? It's time to travel!
To find out more about this trip or other fascinating destinations, please contact YMT Vacations at 888-702-9497, or visit YMTvacations.com.