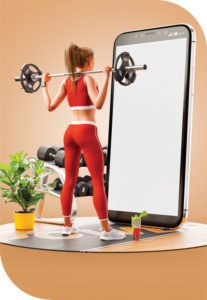 Are your clothes fitting a little tighter? Starting to see sock rings around your ankles? Finding it difficult to avoid latenight chips and dips? If you're stressing about the amount of weight you've gained over the past few months, you're not alone! Many people have been cooking, baking, drinking, and lounging around a lot more than usual. You can blame it on your Netflix binging, being confined, seeing too many tantalizing lasagna recipes on Pinterest, or Chrissy Teigen's banana bread, but the bottom line is, it's time for a lifestyle overhaul. You know it can't realistically continue without causing long-term problems. So, how do you put an end to the madness? Profile by Sanford works in a different way to retrain your brain, give you accountability and power, and to help you stick to healthy eating options for good.
Why Our Plans Work
You'll lose 3x more weight working with a coach than trying on your own*. With over two million pounds lost, our Profile members have proven this!
Here is why Profile will work for you:
• Your coach will educate and motivate you through every stage of your weight loss journey
• Follow a simple step-by-step plan personalized for your goals and lifestyle
• Enjoy delicious, nutritious Profile foods that work for even the busiest of schedules
• Instill internalized habits that will allow you to maintain your weight loss
*According to a research study.
Profile by Sanford
Profile® by Sanford® is changing the way people approach weight loss. We create a personalized nutrition, activity and lifestyle coaching program designed to help members lose weight and keep it off. Our dedicated team of Certified Profile Coaches educate and motivate members through every stage of your weight loss journey. Best of all, the personalized weight loss program is designed to instill internalized habits that will allow you to maintain the results for years to come.
Virtual Coaching and Home Shipping of Our
Delicious 'Convenient' Healthy Foods are Available!
At Profile® by Sanford®, we know there's more to losing weight than counting calories and points. That's why we created Profile Precise – a test that harnesses the power of genetics to map your DNA to a nutrition plan tailor-made to help you reach your goals.
Profile Precise is our latest innovation to help take the guesswork out of healthy lifestyle change. The test analyzes how your body metabolizes carbohydrates, providing you and your Certified Profile Coach with information to more effectively guide you on your weight loss journey.
Smart Science Nutrition
Developed by medical experts, your step-by-step nutrition plan is designed to help you lose weight and keep it off. Along the way, you'll learn how to make nutritious choices and how you can enjoy food that fuels your body.
Shakes, Bars & Recipes
Our foods are designed to give you the nutrition you need with a taste you'll love. We offer a variety of options to suit your personal tastes and weight loss plan. We also have a vast library of recipes that you can make!
Smart Tracking Technology
Monitor your results from home. Our Smart Body Scale syncs directly your online member profile, keeping you and your coach connected as you progress through your journey.
One-on-One Coaching
Team up with a real-life coach who will educate, motivate, and support you every step of your weight loss journey. Our coaches come from a variety of wellness backgrounds, and they must receive and maintain Profile certification.
Profile by Sanford is a top-rated weight loss program in Carrollwood, FL
Why Profile by Sanford – Tampa, FL- Carrollwood Is Right for You
We are proud to help Carrollwood residents achieve healthier lifestyles through custom-tailored weight loss plans. Created by Sanford Health physicians, Profile by Sanford – Tampa, FL- Carrollwood members receive one-on-one coaching and an effective support system that helps you achieve your health goals, reach your desired weight, and maintain your new lifestyle.
Limited Time Offer:
Get a free consultation and join the program for half off!
Get a more personal touch to achieve the results you need. Call Profile by Sanford – Tampa, FL Carrollwood at 813-497-7212 today!
14837 N Dale Mabry Hwy.
Tampa, FL 33618
813-497-7212
www.profileplan.com/tampa-carrollwood