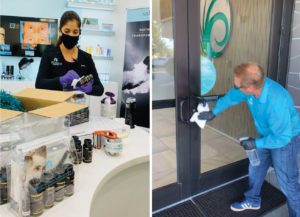 Hair loss doesn't happen overnight, even though sometimes it might feel like that. And unfortunately, hair regrowth doesn't happen overnight, either. It takes a patient and strategic approach to achieve optimal results. Our team at Bauman Medical is taking this same approach, as we begin seeing patients again. While we'd love to simply hit "restart" and open the doors – we know this situation calls for a more patient, and strategic, approach to be successful.
Here is a look at what patients can expect from Bauman Medical during this first phase of reopening as a "COVID-Protected" facility.
Treatments Now Available
We've all had our lives uprooted and put on hold over the last two months. This has meant different things to different people, but we have all been impacted. We've had to put on hold many medical treatments and patients have had interruptions into their regimens, but we are ready to slowly and safely help our patients get back on track.
We are again seeing in-person patients for:
• Hair Transplant Procedures
• Platelet-Rich Plasma (PRP) Treatments
• PDOgro™ Treatments
While we are excited to again offer these services to our patients, at this time we are still delaying in-office follow-ups or consultations until next month – however, we will continue to offer virtual appointments to allow our patients access to our team.
Virtual Consults, Follow-ups
Not surprisingly, virtual visits and telemedicine are surging in popularity during these uncertain times. At Bauman Medical, telemedicine, in one form or another, has been a routine part of our practice for over two decades and has become an integral part of our practice over the past couple of months. We are encouraging patients to continue to take advantage of this service at this time, when possible, to help keep our patients and staff safe and healthy through this transition. From the convenience of your home, without the risk of traveling, patients can connect with our team from their smartphone, tablet or computer, through services like ZOOM and other platforms, to privately discuss their hair loss questions or concerns, hair restoration treatments, initiate or refill prescriptions, answer procedure questions, as well as execute procedure or follow-up appointment scheduling.
As we all know, there has never been a greater need for telemedicine than right now, and because this has been a part of our practice for years, we are equipped to handle our patients' needs safely and effectively.
Don't Forget About the Bauman eStore
We know that while patients may be eager to get back on track with their hair restoration treatments, they may not feel comfortable yet with visiting us in person. The good news is new offerings from the "Bauman eStore," like our new Virtual PRP™ Home Kits – which offer patients an effective at-home treatment option. The VirtualPRP™ Home Kit is the next best thing to an in-office PRP or PDOgro treatment and combines low-level laser therapy, stem cell technology, and potent nutraceuticals in a powerful, at-home solution. This kit allows patients to begin, or continue, their hair restoration journey without sacrificing quality and effectiveness.
Additionally, our eStore is open for haircare, nutritional, laser device, and other product orders and refills (excluding prescription items) for discreet shipping directly to your home. If you have questions about what hair growth treatments you could be doing at home during this time (e.g., prescriptions, laser devices, vitamins/supplements, hair care, VirtualPRP™ Home Kit, etc.) please contact the office or set up a Virtual Consultation.
Moving Forward
On a closing note, we'd like our patients to know that during these uncertain times, we will continue to keep your health and safety as a top priority as we help you achieve your hair restoration goals. To learn more about the latest advancements in hair restoration, or to schedule an in-person or virtual appointment with Dr. Bauman, please visit www.baumanmedical.com or call 561-220-3480.
What Patients Can Expect at Bauman Medical's "COVID-Protected" Hair Transplant Facility:
• We will continue to vigilantly screen our staff for ANY health issues.
• We are pre-screening patients in advance of their arrival to the office.
• We are screening patients when they arrive, including temperature checks and symptom screenings.
• We are prepared to conduct COVID testing with patients and staff if necessary
• We are limiting the number of patients in our facility, especially in waiting areas, to maintain social distancing.
• All visits will be by appointment only, no walk-in appointments will be accepted at this time.
• All patients will be required to wear a mask and all of our staff will be fully equipped with the appropriate protective gear.
As we have done since the beginning of this situation, we will continue to meticulously sanitize our facility frequently throughout the day, including disinfecting all surfaces, equipment, and seating areas before and after each patient, and performing our extensive Deep Cleaning Protocol on a nightly basis.
Bauman Medical
Hair Restoration for Men and Women
www.baumanmedical.com
561-220-3480