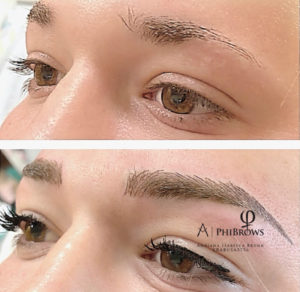 Nowadays you see it everywhere: women of all ages flaunting their makeup; bold eyebrows, juicy lips, winged eyeliner, you name it. And while not everyone is into a very produced look, we can't deny that when makeup is wisely and skillfully applied it has the power of enhancing any and all facial features. There are also many women and men who, for different reasons (health conditions, cancer treatments, medicine ingestion, genetics, etc), are suffering from hair loss (eyebrows and lashes included) or their lips' natural pigmentation has diminished. In many of these cases using makeup becomes a necessity. But not everyone has the time, money, skills and knowledge to commit to a daily makeup routine. This is where Permanent Makeup (PMU) becomes an excellent option.
Permanent Makeup (AKA micropigmentation, dermapigmentation or permanent cosmetics) is not a new treatment and has been around for decades. The first documented procedure was done by British tattoo artist Sutherland McDonald in 1902. The technique became popular in the USA during the 1930's thanks to the work of tattooist George Burchett. But despite having been around for a while, it is just recently that it started to become a cosmetic trend, mainly due to the spreading of before and after pictures through social media. PMU has benefited hundreds of thousands of people around the world by offering results that help boost self-confidence, save time and money, etc. But there are still many people wary of permanent cosmetics; some of them identify it with the "sharpie eyebrows" or "purple lip liner" that was a frequent occurrence in treatments done decades ago. Even today social media is filled with examples of pictures of terribly results due improperly performed treatments.
When it comes to PMU, there is a lot of misinformation and unfortunately, as in every other aesthetic treatment, there are many unqualified people out there offering the treatments. Unfortunately, these practitioners work without having the proper knowledge and skill to perform the service properly, under safe conditions, and with the necessary quality standards. That is why it is so important that anyone considering having any form of PMU conduct a thorough research about the technique they choose, and their choice of artist, before going ahead with the actual treatment. We are talking about long lasting color on your face after all. Surprisingly enough, the most frequent question that I get from my clients is about the cost of the treatments, and while this is an important consideration, it is not the most important one. In this and coming months articles I'm going to answer the questions that every serious PMU performer loves to get from potential clients.
Is PMU same as tattooing? All PMU (both manual and machine techniques) is considered cosmetic tattooing. Any cosmetic technique that delivers pigments to the dermal layer of the skin, through cuts or punctures, is considered a tattoo. In fact, in the state of Florida (and most states) a tattoo artist license is required to perform any PMU treatment, and they can only be performed at locations that have a tattoo establishment license and a biowaste permit. However, the pigments and tools used for PMU have some differences from the ones that are normally use for artistic tattooing.
What skin areas can be treated with PMU? Eyebrows to either reconstruct them, enhance them or give them a "made up" look. Eyelids to create anywhere from bold, winged eyeliner to baby lines. Lash enhancements. Lips to define/correct the contour and bring a more natural or enhanced color to the lips. Permanent makeup is also used for treatments like scalp pigmentation, areola reconstruction, and scars/vitiligio camouflage, but those are matters that will be discussed in future articles.
What types of PMU techniques exist? There are basically two types of techniques: manual (microblading, manual infusing for shading, soft tap eyeliner or lips) and machine (ombre/powder eyebrows, eyeliner, lips contouring and shading). Manual techniques are done with a manual tool and blades, while machine techniques are done with rotary machines, coil machines, rotary pens and needles or cartridges).
Let's leave it here for now and in the next article I'll be addressing the following questions:
Is PMU forever?
Are there any risks involved in having PMU?
How can I avoid the risks of PMU?
What are the contraindications?
Why should I have a prior consultation?
Is it painful?
How long is the treatment time and what's done during it?
What results can I expect?
How long will the results last?
What aftercare do I need to follow?
What kind of at-home maintenance should I follow?
What should I do if I am unhappy with my results?
For additional information visit our FB or IG "MiBella DermaStudio" pages, or feel free to contact me at: ron.brunk@mibelladermastudio.com
Be happy, that's your best makeup!
I am a Colombian native, happy wife, and a proud mom. Former psychologist & educator. Currently a practicing Esthetician & PMU artist. I just love my new life and career in the USA providing Permanent Cosmetics and Skin Care Services!
335 Doris Drive
Lakeland, FL 33813
863-738-9328
MiBella.DermaStudio