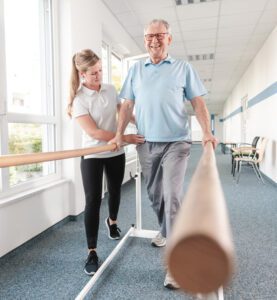 Parkinson's disease is a progressive disorder and unfortunately, affects nearly 1 million Americans. The average onset of Parkinson's disease (PD) is around 60 years of age. Approximately 100,000 Americans are diagnosed with PD each year and 15% of those are under the age of 50, which is called "young-onset."
Although the cause is unknown, the main effect of Parkinson's disease is the cell death of neurons in the substantia nigra area of the brain. Neurons are nerve cells that produce the neurotransmitter, dopamine, which send signals to the brain that controls movement and motor skills. In the brain of a person suffering from PD, dopamine is significantly decreased as the disease progresses. Certain drugs may be prescribed to stop the progression of the symptoms below.
The cell death that occurs in Parkinson's patients leads to continual deficiencies in movement and mobility like the following:
• Hand tremors
• Muscle stiffness
• Limb rigidity
• Loss of memory
• Confusion
• Involuntary twitching
• Shaking
• Slowed movement
• Gastrointestinal disorders
• Slouching and posture changes
• Diminished facial expressions
• Changes in handwriting (small/tight lettering)
Physical Therapy: Innovative Therapies Group Offers Advanced Methods
Parkinson's – LSVT Big and Loud
As of yet, there is still no cure for Parkinson's disease. The treatments available are medications, which help to alleviate symptoms, and a high emphasis is placed on a healthy diet along with exercise and mobility training. Because Parkinson's patients are often struggling with small shuffling movements, rigid muscles and tremors, specifically tailored physical therapy classes are highly effective for retraining the brain into making bigger movements, while incorporating stabilizing balance methods.
LSVT Loud trains Parkinson's patients to use their voice at a more normal level, and LSVT Big teaches the individual to use their small and large motor skills with more control.
Patient Education is critical to alleviate further injury and to promote the most efficacious healing, and maintain independent function, mobility and communication.
Occupational Therapy
Occupational therapists specialize in helping patients with Parkinson's disease to participate in daily activities. This might include modifying the way things are done at home to keep patients safe and also to keep them moving. For example, learning how to safely get in and out of bed or in the shower are critical for patient independence and safety. They can also help with things like domestic skills to help patients participate or take control of preparing meals and so forth. These are just a few examples of a long list of how occupational therapy plays a crucial role in the lives of patients and their caregivers.
Speech Therapy
Speech Language Therapist help patients learn how to communicate better, and also to retrain areas of the brain involved in swallowing and eating. Speech therapist work one on one with Parkinson's patients to help them speak more clearly and to also project their voices.
Innovative Therapies Group provides physical, occupational, speech therapy and massage. They embrace alternative and eastern medicine philosophies and will help you explore new inventive ways to combat your condition.
Along with disorders like Parkinson's disease, Innovative Therapies Group offers comprehensive treatment and programs for orthopedic injuries, pre and post-surgical training, post stroke conditioning, balance disorders, MS, and other neurodegenerative conditions, and much more. Their services are always patient-focused and custom-tailored to your specific needs and goals.
Examples of The Types of Therapies Available:
• Assessment and Evaluation Programs
• Difficulty Walking
• Fall Prevention and Balance Retraining
• Fitness and Wellness Programs
• Functional Training
• Gait Training and Balance Programs
• Manual and Massage Therapy
• Neurological and Neurodegenerative
Retraining
• Vestibular Rehabilitation
• Daily Living Activities Training
• Physical Therapy
• Occupational Therapy
• Speech Therapy
NEW LOCATION: NOW OPEN
Innovative Therapies Group has a new location at 805 S Main Street, Wildwood, FL.
To find out more or to schedule your appointment, please contact Innovative Therapies Group today.
Innovative Therapies Group, Inc.
352-433-0091 | innovativetherapiesgroup.com