BayCare Medical Group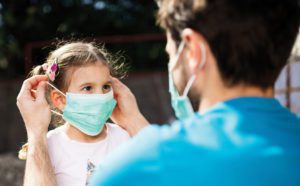 With all of the news pointing to a second wave of the Novel Coronavirus, we wanted to get insight from the medical community. We spoke to two of BayCare's physicians about their tips for patients and individuals throughout the Pasco community. Dr. Radhika Ranganathan, a pediatrician, and Dr. Steven Shechtman, an Internal Medicine physician both provided valuable insight.
Question #1—Second Wave
There seems to be an "out of sight, out of mind" mentality happening as we are now seeing more and more people not wearing face coverings at the grocery store and other public places. As physicians that deal with illness and infections daily, what do you feel needs to happen to prevent an uptick in local and national cases?
Dr. Ranganathan: It's essential to maintain social distance, and absolutely to wear a mask to slow the progress. I expect that we will need to wear face masks for at least three months or more when in public places. The younger population are the ones currently that seem to be getting affected, so reminding them of the importance of these safety precautions is critical to prevent the spread and a significant second wave.
Dr. Shectman: Following up on Dr. Ranganathan's recommendations, in order for a second wave to be prevented, people need to adhere to the basic principles. Ideally, each person should wear a face covering, stay six feet apart, maintain social distancing, and practice good hygiene.
If individuals have underlying medical conditions, they need to be especially careful when out in public or around friends and family that might be contagious. Many studies are purporting that asymptomatic people do not spread the virus as initially believed. If this is the case, that is excellent news, as it makes it easier to self-regulate and stay healthy.
Question #2—Back to School Concerns
Dr. Ranganathan, there is a certain level of concern for parents regarding their children heading back into the classroom, and other activities such as scouts and sports. What advice do you provide parents to keep their children safe?
Dr. Ranganathan: Minimizing socialization as much as you can is my advice to parents. We don't know who is affected, so it's important not to jump back into things yet.
In the classroom, spacing out children and limiting class size is going to be very important if children do go back to school in the fall. Practicing proper hygiene and wearing face coverings is also essential. Even in daycare or schools where children might seem to have a cold or be ill, it's not optimal to get a note from the pediatrician saying they can  attend anyway. Everyone must be extra cautious to avoid spreading the virus. If a child has a cold, their immune system is lower than if they are healthy.
I recommend that parents maintain their children's physicals and vaccinations regularly. Many people might be apprehensive about going to the doctor's office, but they should know that we at BayCare take extra precautions to keep our staff and patients healthy. In our office, we check the practitioner's and the staff's temperatures every morning. We wear face masks at all times, and everything is cleaned thoroughly from the chairs to the equipment after each patient's appointment.
Question #3—Adults Reentering Society
Dr. Shechtman, what's your advice for adults worried about going back to work, college or just getting back out there in the world. How can we boost our immune systems, stave off COVID-19, protect others, and maintain a sense of normalcy?
Dr. Shechtman: To reach herd immunity, we need 60% of the population to have COVID-19, and we are not there yet. In social situations such as office settings and college classrooms, it's important to space people out away from each other. Wearing face coverings if you are around others is essential, and if you can't tolerate wearing a mask for hours on end, taking breaks alone, outside, or in a private area to breathe normally, can help significantly. It's also imperative to wipe down surfaces and high touch point areas with disinfectant after each use. Anything that someone else has come in contact with should be thoroughly cleaned. And it can't be said enough not to touch your face.
Anyone with a medical condition such as kidney disorders, uncontrolled diabetes, lung conditions, autoimmune disease, etc., should talk with their employer about their concerns and risk factors. If they can work in a more private space or remotely, that might be a better option until the infection rates have calmed down more.
My advice to patients is to take general health measures seriously by exercising, staying active physically and mentally, practicing stress management, getting quality sleep, and eating nutritious foods. Nothing can act as a deterrent, but you can certainly stay healthier by maintaining these principles.
In our office, we take extra care to make sure everything is cleaned and disinfected in between patients. We also have ample space in the waiting areas and require patients and staff to wear face masks.
My last point that I can't stress enough is that if people feel sick, let's say they have shortness of breath, for example, and they go to one of the drive-thru checkpoints to get tested; they still need to contact their doctor and explain their symptoms in detail. If you have shortness of breath, it can be a sign of other lung conditions like COPD or advanced asthma. It can also be a sign of cardiac issues. If you don't feel well, it's critical to see a physician. We hear many reports of increased heart attacks because individuals are afraid to go to the emergency room. We want to encourage patients to call and schedule an appointment. We isolate our patients and set aside blocks of time for those with a respiratory or gastrointestinal issue.
Steven Shechtman, M.D., is board certified in internal medicine. Dr. Shechtman accepts patients age 18 and older.
His focus is long-term, comprehensive and complex illnesses in adults and the elderly. He understands the essentials of primary care and internal medicine and incorporates the understanding of disease prevention and wellness.
Dr. Shechtman strives to educate his patients on their conditions and become active participants in their care decisions. He is thorough in his patient care and dedicated to his patients and their well-being.
Dr. Shechtman earned his Doctor of Medicine from St. George's University School of Medicine in Great River, New York. He continued his medical education by completing an internal medicine residency at West Penn and Allegheny Hospitals in Pittsburgh, Pennsylvania.
Dr. Shechtman accepts most major insurance plans.
Radhika Ranganathan, M.D., FAAP is board certified in pediatrics and accepts patients newborn to age 18. Dr. Ranganathan is affiliated with St. Joseph's Children's Hospital in Tampa. She speaks Hindi, Tamil, Kannada and medical Spanish.
Practicing since 2005, Dr. Ranganathan is described as the consummate professional. She is extremely patient with children, providing accurate assessments while explaining diagnoses and treatment plans in understandable terms.
Dr. Ranganathan earned her Doctor of Medicine from Karnatak University, Jawaharlal Nehru Medical College (JNMC) in Belgaum, India. She continued her medical education by completing a pediatric residency at All Children's Hospital in St. Petersburg, Florida and Tampa General Hospital.
She is a fellow in the American Academy of Pediatrics and a member of the American Medical Association and the Florida Pediatric Society.
Dr. Ranganathan accepts most major insurance plans including Medicaid.
About BayCare Medical Group
BayCare Medical Group is Tampa Bay's leading multi-specialty group providing primary and specialty care throughout the Tampa Bay and west central Florida regions. As part of the BayCare Health System, these passionate and compassionate physicians extend the mission of BayCare to provide extraordinary care for every patient, every time, everywhere.
Locally and nationally recognized as a 2018-2019 Great Place to Work® and Fortune 100 Best Companies to Work For®, BayCare Health System is a not-for-profit 501(c)(3) organization, with a network comprised of 15 hospitals with services including imaging, lab, behavioral health, home health care and urgent care. Our priority is connecting patients to a complete range of preventive, diagnostic and treatment services for any health care need, throughout their lifetime. For more information, visit BayCareMedicalGroup.org.
To schedule your appointment, visit
BMGWesleyChapel.org or please call
(813) 920-1800.
BayCare Medical Group

2529 Cypress Ridge Blvd.,
Wesley Chapel, FL
(813) 920-1800