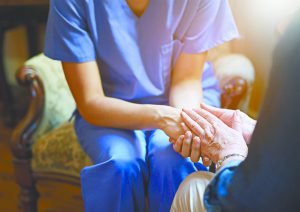 Going the extra mile in providing exceptional care for seniors and disabled adults often comes down to the everyday little things … the respectful help getting dressed … the favorite home-cooked meals … the encouraging nudge through therapy exercises … the seamless, on-time ride to doctor appointments … the engaging conversations and listening to stories of times long past.
Being a remarkable at-home caregiver for today's rapidly increasing senior population — more than 46.2 million older Americans as of 2014 — is a challenging blend of career expertise and compassionate understanding. Not every person who enjoys older people can become a successful caregiver, notes Right at Home, a leading at-home care and assistance provider.
"Central to our senior care services is our right people doing the right things the right way for the right reason," said Emily Fechtenburg Right at Home The Villages, Lake & Sumter Counties. "In-home caregiving isn't just a job, but a notable dedication to serving others. Right at Home caregivers become trusted friends and part of the family who help our clients not just get by, but thrive living in their own homes."
For Right at Home clients, home settings vary from a house or condo to an assisted living apartment or nursing home room. Headquartered in Omaha, Neb., with more than 500 U.S. locations and operations in seven additional countries, the company's right people feature caregivers who deliver personal, custom-tailored care. To recognize the hard-earned efforts of caregivers across the country, Fechtenburg says the adult home care organization created their Caregiver of the Year award program. On April 6, Right at Home will announce the 2017 Caregiver of the Year at its annual meeting in Omaha.
The Caregiver of the Year award program celebrates the accomplishments of a select group of caregivers. Qualifications for Caregiver of the Year include being passionate about providing extraordinary care to clients — selflessly and professionally serving others while being a motivating team player. Clients and their families notice the above-and-beyond care, and the nominated caregivers receive continual praise and recognition for their outstanding work. Top caregivers are nominated and judged based on the following criteria: character, client impact, brand ambassadorship, team spirit and professional development.
Right at Home corporate staff reviewed 100 caregiver nominations this year and selected 20 finalists, representing the home caregiver organization's four regions nationwide. The finalists then submitted a videotaped testimonial, and a three-member community judging committee reviewed details on each of the finalists, selecting four region winners and one national winner.
Region Caregivers of the Year receive a $1,000 check, an engraved crystal plaque and a celebratory dinner. The National Caregiver of the Year receives a $5,000 check, an engraved crystal plaque and an all-expense-paid trip for two to the annual meeting. At the event, the National Caregiver of the Year receives the distinguished award and a leisure package of choice to enjoy during the meeting week.
The theme of the 2017 annual meeting is the "Power of One," and the Right at Home franchise owners like Fechtenburg see this strength exemplified in the tireless caregivers who give so much of themselves to help improve the quality of life for the seniors and disabled adults they serve.
"Our caregivers are the cornerstone of our business, and each of them has the power to change a life and make someone's life better," explains Fechtenburg. "The power of just one person who positively influences another person is incredibly far-reaching, and you see this lived out with family caregivers, too. All of us have the power to help at least one other person every day. Sometimes that's with tangible care assistance and sometimes it's simply with a smile or hug."
For more details on Caregiver of the Year, including the nomination and selection process and awards, visit www.rahcaregiver.com.
About Right at Home
Founded in 1995, Right at Home offers in-home companionship, personal care and assistance to seniors and disabled adults who want to continue to live independently. Right at Home's global office is based in Omaha, Nebraska, with offices located in 45 states nationwide and throughout the world. For more information on Right at Home, visit About Right at Home at http://www.rightathome.net/about-us or read the Right at Home caregiving blog at http://www.rightathome.net/blog.
To sign up for Right at Home's free adult caregiving e-newsletter, Caring Right at Home, visit http://caringnews.com.
About Right at Home of The Villages, Lake and Sumter Counties
The Villages, Lake and Sumter Counties office of Right at Home is independently owned and operated and directly employ and supervise all caregiving staff, each of whom is thoroughly screened, trained, and bonded/insured prior to entering a client's home. For more information, contact Right at Home of The Villages, Lake and Sumter Counties at WWW.RAHFL.com, 352-835-0101 or by email at Info@rahfl.com.