By Superior Residences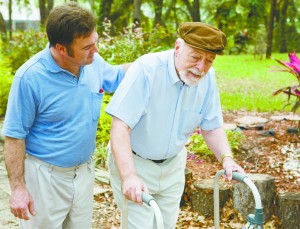 Are you worried about the health and safety of an elderly loved one? Perhaps they have even been injured in a fall, are missing doses of their medication, or have become disoriented or lost while away from home.
Assisted living is an option that is beneficial to the physical and mental well-being of seniors who require more care than they can get living at home.
"Getting older comes with its own set of challenges, and many seniors may not even realize they need extra support," said Gary Crews, executive director at Superior Residences of Cala Hills in Ocala, which provides memory care services. "The right place will offer custom care that respects individual needs while providing a home-like, loving environment."
For example, falls are a common cause of injury among seniors. Back and hip injuries can mean long, painful periods of recovery. Assisted living and memory care communities are designed with features that help prevent falls and may also offer exercise and therapy programs that help seniors improve their balance. If a resident does fall, help is at the ready, 24-hours a day.
Seniors with dementia, even in the early stages, may wander away from home and suffer from injuries or exposure. With 24-hour security and safety features, assisted living and memory care residences keep seniors safe while still allowing them to move about community areas and grounds.
Regular mealtimes, medication times, therapies, activities and social opportunities offer seniors comfort and security. Having friends and a sense of community is vital to keeping seniors alert, active and thriving.
Full-time care residents should receive customized care plans and services with staff available 24-hours a day. Memory care residents should also have specially trained staff and extra security measures.
Change is always challenging, but a full-time care residence like Superior Residences can offer seniors a happier, healthier life while offering the family peace of mind.
Call today to talk with a Superior Residences team member about all the options available to you at 352-861-2887. We look forward to helping in any way possible.
Call today to talk with a Superior Residences team member about all the options available to you at 352-861-2887.