Kyphoplasty | Dr. Tien V Le | Dual Fellowship-Trained | Board-Certified Spinal Neurosurgeon
Kyphosis is a hunching of the spine. The vertebrae in the back become narrowed and wedged due to fractures in the vertebrae called compression fractures, which curves the spine. Because it causes severe pain and deformity, compression fractures should not be left untreated. More importantly, it should not be treated by just anyone.
You deserve to have a Board-certified and Dual Fellowship-trained Spinal Neurosurgeon to treat your compression fracture. If it is determined to by necessary, then your Spinal Neurosurgeon provides comprehensive care since he can not only perform your kyphoplasty, but he is also able to treat potential complications that may arise and not have to refer you out for treatment with yet another doctor as with other "spine specialists."
Our minimally invasive kyphoplasty procedures are performed on an outpatient basis, therefore, you do not need to be around the hospital. This is especially important during these difficult times.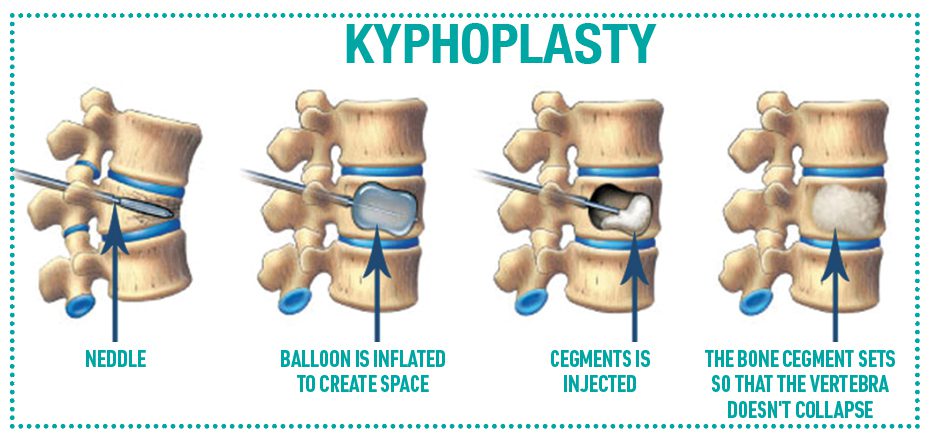 Total Spine & Brain Institute
Dr. Tien V. Le
During a kyphoplasty, Dr. Le injects a cement mixture into the bone to give it strength and stability. A balloon is inserted and inflated to create an opening for the mixture. The cement is injected after the balloon is deflated and removed. It is more likely to be successful if done within two to three months of a fracture diagnosis. Patients typically have immediate pain relief and improved mobility after the procedure.
Surgical Procedure Steps:
Dr. Le inserts a hollow cannula though your skin using a needle tip. With the aid of fluoroscopy, a type of X-ray, this needle tip and cannula is guided to the correct position in your spinal bone.
An inflatable balloon is then introduced into the vertebral body through the cannula.
The balloon is then inflated to create the space needed for the bone cement.
Once the space has opened up, the mixture is injected to fill it up. Imaging tests will help the surgeon confirm that the mixture is distributed properly.
Once the cement is in place, the cannula is removed.
The area is bandaged. Stitches won't be necessary.
Kyphoplasty procedures usually take less than 30 minutes to perform.
DR. TIEN LE IS AN EXPERT IN
MINIMALLY INVASIVE SPINE SURGERY, ROBOTIC SPINE SURGERY,
& COMPLEX SPINE SURGERY
Dr. Tien V. Le is a Board-Certified and dual Fellowship-trained Neurosurgeon who earned his Bachelor's degree in Biology from the University of North Florida, where he graduated summa cum laude with Baccalaureate Honors. He then received his medical degree at the University of South Florida Morsani College of Medicine (USF), having earned the distinction of Neurosurgery Student of the Year during his senior year. His neurosurgery residency training was done at the world-renowned Cleveland Clinic and USF, where he was elected and served as Chief Resident during his final year.
Dr. Le has completed two fellowships in Minimally Invasive Spine Surgery. His first fellowship was during residency at USF, where he trained under Dr. Juan Uribe. After completing his residency, Dr. Le was then selected by Dr. Kevin Foley to the prestigious post-graduate Spinal Surgery Fellowship at Semmes-Murphey Neurologic & Spine Institute. While there, he also obtained additional fellowship training in scoliosis, deformity, and complex reconstructive spine surgery with Dr. Julius Fernandez.
Dr. Le is prolific in his academic contributions to advance the field of neurosurgery and spinal surgery. He has authored more than 20 peer-reviewed spinal, neurological, and neurosurgical journal articles, several book chapters, and has presented at various professional meetings. He is also a former reviewer for the journal, Spine.
Finding pain relief, increasing range of motion, and living a higher quality of life are a few reasons why patients of Total Spine & Brain Institute recommend
Dr. Tien Le to their associates, friends, and relatives.
Do NOT settle on just anyone. You deserve the highest level of care for your spine. That means that for superior outcomes, you can trust the world-class training and expertise of a Board-certified and Dual Fellowship-trained Spinal Neurosurgeon to perform your kyphoplasty.
Don't trust your spine to just anyone, call and schedule your consultation with Dr. Le today.
Tien V. Le, MD, FAANS
Neurological Spine Surgery. Total Spine & Brain Institute
1110 Nikki View Drive | Brandon, FL 33511
(813) 444-5567 office | (813) 444-5569 fax
totalspinebrain.com