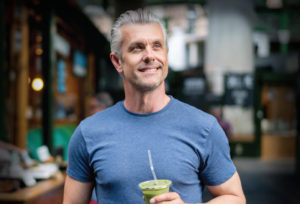 The New Year is a time for change. Like most of us, you may feel there's some room for improvement in your life – in your physical fitness, your relationships, or your work/life balance. If there's a piece of your puzzle missing, what simple changes might help bring the picture into focus? What can you do to make 2020 the year you really feel whole? Here are a few easy tips from AdventHealth to get you started.
See your primary care provider.
Make an appointment with your regular physician or advanced practitioner and begin an open and honest conversation about your real health goals and what you and your care team can do to achieve them. Tell your provider "I'm ready to change, to maximize my health, and I need your help." A regular physical exam will yield your baseline numbers for blood pressure, blood sugar, cholesterol and other important measurements, allowing you and your health team to track your progress and know when modifications to your lifestyle or medications are necessary.
Get a move on.
There's no substitute for regular physical activity to help you reach your physical goals – whether you want to lose weight or simply have more strength and energy. On a daily basis – or at least several times per week, exercise for 30 minutes. Whether you choose jogging, walking at a brisk pace or another activity, do so at a quick enough rate that you can't hold a conversation or update your social media status in the meantime. You won't believe how much better you'll feel by meeting this one easy goal.
Rest.
Maintaining your physical, spiritual and emotional wellness requires giving your mind and body time to relax and recharge. You should be getting approximately seven to eight hours of sleep per night, and if you're not, your health care provider needs to know. If you are already getting that much sleep but still feel tired much of the time, that could signify a problem. Many people mistake fatigue as just a natural part of aging, but in reality, waking up tired may be the result of a treatable sleep disorder.
Eat, drink, but be healthy.
Dietary recommendations can vary widely according to your specific health status, including any diseases you may have (such as diabetes), food allergies, and of course, personal preferences. Ask your provider to recommend a diet that matches the findings of your physical exam. If you need to lose weight, prepare healthy meals in advance so that you're not tempted to eat out or grab quick, processed food. And remember to drink water – plenty of it. Hardly anyone drinks as much water as they should, yet most of what you drink each day should be in the form of this life-giving liquid. The benefits of hydration are real. Challenge yourself to drink 64 ounces a day for a week and see how you feel.
Don't worry, be happy.
Outlook matters. Like it or not, your mind influences your body and your attitude affects your health. You were born to enjoy a life that is active, vibrant, and filled with joy – and each day is a gift. Try squelching those negative thoughts by stopping yourself from complaining, keeping a lookout for those dark thoughts that aren't based in reality, and making the choice to be happy and hopeful more often. You might be pleasantly surprised how much your active thoughts become your new reality. Choose optimism over despair, light over darkness, forgiveness over grudges – and take active steps to nurture your soul through exercise, diet and interpersonal relationships.
When you're having a bad day, try not to lose sight of the bigger picture and everything that you have to be grateful for. And take stock in the idea that laughter is the best medicine. Go out of your way to find the goodness in people with whom you live and work, and treat others with kindness and compassion always. Focus on the things that bring you joy, and let go of the things that don't.
Spend more time with family, and not in front of a screen.
Television, cell phones, video games, tablets and social media are all-consuming devices in today's high-technology environment. But while these things can help us socialize and learn, they can also lead to a sedentary, inactive lifestyle and other problems that may affect your and your childrens' daily lives. New recommendations from the American Academy of Pediatrics say that children ages two to five years old should have their screen time limited to one hour per day, while babies ages 18 months and younger should not be exposed to ANY digital media. Instead, try strapping in the young ones for a long walk, scenic hike or bike ride. You'll be getting exercise while also teaching them good habits by example.
On your mark…get set…go!
The goals outlined above are both realistic and trackable. If you start now and address each one throughout the year, you'll get a better understanding of what it is to feel whole – and you'll thank yourself for doing what it takes to live happier and healthier.
About AdventHealth Medical Group
AdventHealth Medical Group is Central Florida's most comprehensive multi-specialty medical group practice. With nearly 600 board-certified physicians, the group provides patients with a broad range of medical and surgical services across more than 40 medical specialties.
For more information or to make an appointment, call 866-997-3627 or visit AdventHealthMedicalGroup.com/Polk-County.