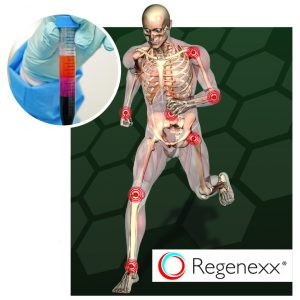 WHAT ARE STEM CELLS?
Over the past several years, stem cell and PRP (Platelet Rich Plasma) therapy have soared in popularity and are highly sought after treatment options, as a natural and non-surgical alternative to treat many common orthopedic conditions.
Our bodies naturally produce stem cells.
Because micro-damage occurs constantly, all body tissues are struggling to keep up with growth and healing in the face of continual wear and tear. In normal healing, platelets from the blood travel to the
injured area to stop the bleeding. They then initiate three phases of healing: inflammation, proliferation and remodeling. Released growth factors from the platelets serve as signals to orchestrate the needed
repair to the damaged area and begin to regenerate new tissue. Stem cells are also called to the area. Sometimes this process is impaired and unable to overcome the process of degeneration. As we get older, wear and tear begins to outpace growth and healing. Stem cells become less abundant and less
effective.
Stem cells obtained from the patient's bone marrow and concentrated platelets from the blood can be injected into the injured region(s) under precise ultrasound and/or X-ray guidance to assist the body in healing the chronic injury and improving the pain and function.
TREATABLE TISSUES
Ligaments • Tendons • Joints/Cartilage • Muscles
Nerves • Bone • Meniscus/Labrum
Degenerated/Bulging/Torn Discs
CAUTION-NOT ALL STEM CELLS
AND STEM CELL DOCTORS ARE THE SAME
Patients should be vigilant when choosing physicians for this type of therapy. Because patients are requesting stem cell and PRP injections for their orthopedic problems, many medical offices are beginning to offer this treatment strategy. Unfortunately, many practitioners are poorly qualified and misguided.
Some of these injectors are doing it blindly, without image-guidance and with inferior laboratory techniques resulting in poorer quality stem cell and PRP solutions. Others are treating everything under the sun with "stem cells". This should be a red flag.
THE REGENEXX DIFFERENCE
Since 2005, Regenexx has led the way in advancing this new field of lnterventional Regenerative
Orthopedics with a fervent commitment to researching and publishing the scientific and clinical data – more than 50% of the world's orthopedic stem cell research has been published by Regenexx. Affiliated doctors are highly trained musculoskeletal experts who are skilled at precise image guided injections utilizing ultrasound and X-ray. This exclusive group of doctors have been hand-picked to be part of this network and then further trained in highly refined procedural and laboratory techniques.
With Regenexx, all patients are tracked by a team of professional researchers in the only national registry database of its kind, containing nearly 40,000 procedures. With this, safety and outcomes can be better analyzed and followed. No other stem cell organization offers this combination of successful persistent effort.
The Regenexx SD procedure can provide 10 to 20 times the amount of stem cells obtained than by any other available techniques. The stem cells are taken from the bone marrow, through a virtually painless harvesting procedure. Beware of doctors offering fat derived stem cell procedures for orthopedic problems. This is a clear violation of FDA regulation. Fat derived stem cells are also much less studied, are less effective than bone marrow derived stem cells for orthopedic tissue, and are associated with more procedural complications. And be very wary of doctors offering "amniotic" or "placental stem cells". Laboratory research by Regenexx has found these products to be devoid of actual living stem cells.
In research by Regenexx, patients with knee osteoarthritis showed that greater than 90 % feel major improvement with several years of lasting results, even with " bone on bone" arthritis using Regenexx protocols. Many conditions can be successfully treated, ranging from tendon and ligament tears to arthritis to disc herniations, and avascular necrosis (death of bone).
Additionally, Regenexx performs culture-expanded treatments in which isolated stem cells are grown
to much larger quantities before precise placement – and can be cryopreserved, saving them for future treatments. This procedure (Regenexx-C) takes place in Regenexx's Cayman Island facility and can be the best choice for certain advanced conditions.
For patients suffering from pain related to chronic injury, the first step to improving their quality of life
is to talk to an experienced Regenexx physician who can provide accurate and realistic expectations regarding these new and exciting treatment options.
New reGeneration Orthopedics of Florida
2401 University Parkway Suite 104
Sarasota, Florida 34243
www.NewreGenOrtho.com
info@newregenortho.com
Dr. James Leiber
James Leiber, DO, is the founder and medical director of New reGeneration Orthopedics of Florida. He is a former officer, physician, and educator in the Air Force, including personal physician to the vice president and president at the White House. He is triple board certified in: Neuromusculoskeletal Medicine (AOBNMM), Pain Medicine, and Family Medicine (ABFM), as well registered in Musculoskeletal Sonography (RMSK).
Dr. Leiber specializes in lnterventional Regenerative Orthopedics with years of experience and is honored to have been the first Regenexx Network Provider in Florida since 2012 offering the nation's most advanced non-surgical stem cell and platelet treatments (PRP) for injuries and arthritis under precise image guidance utilizing ultrasound and fluoroscopy (X-ray).
These types of injections are natural and safe having the potential of re-growing normal tissue and eliminating the need for surgery in many cases. Conditions treated involve ligament, tendon, joint, muscle, nerve and spine related pain. For more information on these procedures, visit
www.NewreGenOrtho.com
, or make an appointment by calling (941) 357-1773. info@newregenortho.com