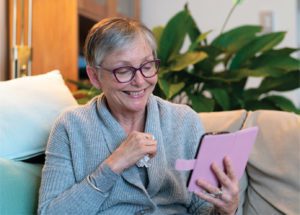 In March, 2020, Florida Cancer Specialists & Research Institute (FCS) launched telehealth services across all FCS sites statewide, allowing patients continued and convenient access to care, while mitigating the impact and spread of COVID-19. Since the implementation of telehealth, thousands of patients have taken advantage of the service and have participated in more than 16,000 virtual visits (about 22% of all patient visits) with FCS physicians and other clinicians in the past three months.
Cancer Patients Are at Increased Risk
Cancer patients are among the most vulnerable populations in terms of contracting viral infections due to a compromised immune system, which can occur as a result of chemotherapy or other underlying health conditions, such as heart disease, diabetes or hypertension, that are often found in older adults. Wearing masks, increased handwashing, social distancing and other extra precautions help to reduce exposure to the virus. Beyond these measures, Florida Cancer Specialists has instituted visitor restrictions and other safety protocols at all of its clinics across the state and is providing telehealth visits to continue vital cancer care for those patients who are not required to come into the clinic for treatment.
Telehealth Helps Reduce Risk of Exposure
Using video chat, FCS providers consult with patients remotely to share their laboratory results, treatment plans and more. To date, more than 600 providers, including physicians, advanced practice providers, nurses, social workers and nutritionists, have embraced the adoption telehealth not only to fulfill immediate healthcare needs in response to the outbreak, but also to support the delivery of high-quality patient-centered care. Telehealth visits are now covered by most insurance plans; patients may pay the same or possibly less than an in-office visit.
Prior to the COVID-19 crisis, telehealth did not play a significant role in oncology; however, due to the relaxation and updating of previous guidelines from the Centers for Medicare & Medicaid Services (CMS), we have now been able to introduce video meetings with our patients that maintain the high level of care and experiences our patients deserve and expect.
Technology Makes Telehealth Simple for Patients and Physicians
Connecting providers and patients is easy, thanks to advanced technologies, which allow FCS to successfully integrate multiple electronic platforms to ensure our patients have the critical access needed for their continuation of care and communication. Further, and most importantly, personal health information is protected and secure in virtual visits, just as it is with an office visit. While telehealth is not suitable for every patient served by FCS, physicians can identify appropriate patients who are a good fit.
This virtual care solution plays a vital role in response to the pandemic crisis, maintaining patient access to care directly from home for cancer patients who are among the most immunocompromised populations. FCS was among the first cancer care groups in Florida to launch telehealth resources to cancer patients during the pandemic.
World-Class Cancer Treatment Close to Home
Florida Cancer Specialists & Research Institute (FCS) has a statewide network of expert, board-certified physicians who bring world‐class cancer treatments to local communities, both large and small, in nearly 100 locations throughout Florida. FCS is also on the leading edge of clinical trial research that provides FCS patients with access to the newest, most innovative and promising new treatments.
Florida Cancer Specialists treats patients with all types of cancer and offers a number of services, such as an in-house specialty pharmacy, an in-house pathology lab and financial counselors at every location, that deliver the most advanced and personalized care in your local community.
Florida Cancer Specialist
Hudson
7651 Medical Drive
Hudson, FL 34667
Hudson North
14100 Fivay Road, Suite 380
Hudson, FL 34667
New Port Richey
8763 River Crossing Blvd.
New Port Richey, FL 34655
New Port Richey West
5802 State Road 54
New Port Richey, FL 34652
Wesley Chapel
26823 Tanic Drive
Wesley Chapel, Florida 33544
Zephyrhills
38010 Medical Center Ave
Zephyrhills, FL 33540
Clermont
1920 Don Wickham Way, Suite 100
Clermont, Florida 34711
Leesburg North
9832 US Highway 441, Suite 101
Leesburg, FL 34788-3984
Leesburg South
601 E Dixie Ave., Suite 1001
Leesburg, FL 34748
Leesburg West
1600 West Main Street
Leesburg, FL 34748-2811
Tavares
4100 Waterman Way
Tavares, FL 32778
Villages Buenos Aires
1503 Buenos Aires Blvd
Building 140
The Villages, Florida 32162
Villages Cancer Center
1400 N US Highway 441, Suite 540
The Villages, Florida 32159
Villages North
1400 N US Highway 441, Suite 924
Lady Lake, Florida 32159
Ocala
1630 SE 18th St.
Suite 602
Ocala, FL 34471
Ocala Cancer Center
4945 SW 49th Place
Ocala, Florida 34474