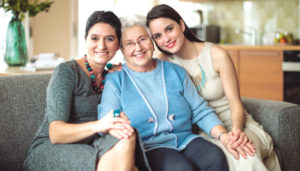 Aging can be challenging not only relating to our health but also our ability to perform daily tasks and to live the life we deserve. When we're younger, we often take for granted the ability to easily jump in an out of the bath or shower, walk up and down the stairs, or the capacity to stroll safely from the bathroom to the living room without tripping over an area rug and getting hurt.
Whether you've suffered from a stroke, have arthritic knees, or perhaps you've undergone a total hip replacement, whatever the reason, getting around the home safely gets much more challenging as we age.
Top Ten Things to Keep Seniors Safe:
1 Install grab bars – Getting in and out of the shower can be tricky. For one thing, when the surface is wet, slips and falls are not uncommon, and they can be deadly. Another reason to consider installing grab bars is if you or your loved one can no longer easily lift their legs to climb in or out of the bathtub. A grab bar increases stability in these cases. It's also important to consider that medications sometimes make us dizzy and having the grab bar there can alleviate imbalance or a fall.
2 Purchase a shower seat – If you are unable to stand in the shower, perhaps from dizziness, weakness, or vertigo, a shower seat provides a significant benefit. In addition, if a loved one has paralysis from a stroke then the ability to sit while getting showered is essential.
3 Purchase a hand-held shower – If you have a shower seat or if you need to sit in the bath, a hand-held shower option is ideal. Many individuals cannot put their head back or lean it forward, so this also helps when washing the hair in the bathtub, as well as when using a shower seat.
4 Purchase a lift chair – A lift chair is a comfortable recliner that has a motor that actually raises the chair so you can more easily rise to a standing position. This eliminates the risk of getting stuck in the seated position due to weakness. They greatly enhance safety, and they are very comfortable too!
5 Remove throw rugs – Many people don't realize how often elderly individuals trip over the corners of area rugs. Their walkers can get stuck or the footing can be uneven. As we age, it's best to remove them from the home.
6 Remove clutter – Decluttering your home is good for the spirit, but more importantly, it provides a much safer environment. Tripping over boxes, odds and ends, laundry baskets, or extension cords can cause major injuries and unwanted trips to the hospital.
7 Address hard floors and sharp furniture – Area rugs are unsafe, but so are hard floors. Consider installing carpeting on the floors to soften the brunt of a fall. Similarly, consider adding padding to the edges of counters and remove sharp edged furniture.
8 Obtain a remotely monitored fall-assist device (e.g., "Lifeline") – If you are vulnerable or have medical conditions, it's critical to have a life assistance button. For example, if you fall or suddenly feel faint or have a heart attack, you need a way to contact emergency medical services without having to get to a telephone. Having a life assistance button is crucial for seniors.
9 Purchase a bed handle – Getting in and out of bed can be difficult when our bodies are stiff and full of pain. A bed handle can make it easier to get up or in the bed, and it can even act as a barrier to help keep you safely in the bed.
10 Consider a personal mobility device such as a cane or walker – Getting around gets more difficult as you age. There are many benefits to having a walker or cane for more stability.
If you are beginning to feel unstable or if for any reason think you might need a walker or cane, talk to your physician or caregiver. Don't wait until you've had a fall.
Kin-Care Medical Supplies
When selecting medical equipment for your home, the decision must be done carefully and with professional assistance. It is obviously not a one-size-fits-all approach. Kin Care Medical Supplies carries many of the products described above and can help you with the selection process. Kin-Care provides professional guidance for their clients, and they file the necessary paperwork to assist you in obtaining the maximum allowable Medicare and insurance benefits for the medical supply products you need.
Please stop by, call (561) 477-2507 or visit kincare.net today.