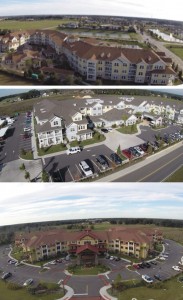 As seniors consider retirement living, a rapidly growing segment appreciates the FREEDOM of Independent Living. The quality of life comes from the simplicity of a community environment with independence and privacy. As one recent client stated "Richard and I can no longer provide all the maintenance this house requires and everything keeps going up". The safety and security allows gracious living with one all-inclusive rent, so seniors can focus on enjoying life.
Imagine no more property tax bills, no homeowner insurance bills, no utilities to pay, or lawn care work or payments. All meals are prepared by trained chefs; housekeeping is included in the rent, and usually transportation is provided to places you want to go locally. The security of knowing a management person is available 24/7 provides peace of mind to seniors and their families. Independent living is far more than senior housing, it includes social as well as the health and fitness activities seniors need.
The spacious apartments typical of independent living often includes kitchenettes for those times one wants to cook and can be decorated to the style that makes it feel like home. The shared areas are full of amenities that promote wellness, group activities, shared spiritual experiences, and continuing education. Usually an in-house third party home health company is available as needed, and many health care professionals make regular visits to the community. Most are pet friendly and equipped.
Most retirees are retiring from work and engaging in more recreational, leisure, or volunteer activities. That makes the freedom of independent living appealing, as so many parts of daily maintenance are covered by the all-inclusive rent, giving more time for what the senior retired to do in the first place. Assisted Transition has visited all the independent living communities in the area and noted the specialties that each offers. At no cost to you, a Certified Senior Advisor will narrow down your search and introduce you to your new home. Call our local Leesburg office at 352-356-8127.
The freedom of independent living is available to new retirees, and those that have exhausted the active adult lifestyle Central Florida offers. Assisted Transition is a free senior advocacy business, specializing in senior care and housing solutions.  With the aging of residents in The Villages and nearby towns of Lady Lake, Leesburg, Tavares, Eustis, Summerfield, Belleview, as well as Inverness, Lecanto and Brooksville, independent living is a great option. Assisted Transition provides a free tour guide through the maze of senior services in Lake, Sumter, Marion, Citrus, and Hernando Counties.  Call 352-356-8127.
David and Angela Wilkins serve the Central Florida  living and care placement needs of seniors. They focus on the  growing retirement communities of The Villages and the surrounding towns and cities stretching to the Gulf of Mexico. Their office is in Leesburg, Florida and they can be reached at 352-356-8127.
Both are Certified Senior Advisors® with a passion for compassionate education of the life stages seniors go through, a term we call transitions. David has his MBA and came from a corporate marketing background.  Angela was previously a certified elementary school teacher. Both have lost their parents and lived through the health concerns that have taken the lives of one of David's sisters and his only brother. Those experiences and serving as an ordained Deacon responsible for multiple widows has shaped their worldview.