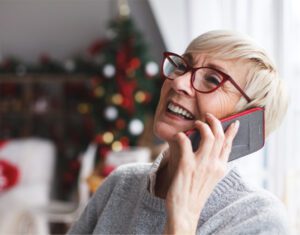 If you look at holiday marketing, advertising, and movies, it's the most joyous time of the year; however, the holiday season can and very often does evoke feelings of depression, stress, and loneliness. This year with the pandemic and other looming concerns, more people might need to give themselves a mental health check.
An increase in stress, a busy schedule, and missing loved ones (who are no longer with us) are all triggers, which can lead to depression over the holidays. People who have struggled with adverse life events such as divorce, unemployment, bereavement, chronic medical problems, psychological trauma, alcohol, or substance abuse are more likely to develop depression.
Symptoms of Depression
• Sadness
• Crying
• Loss of interest
• Feeling worthless
• Guilt
• A sense of hopelessness
• Decreased appetite or overeating
• Decreased sex drive
• Changes in appetite
• Changes in sleep habits
• Memory Problems
• Thoughts of death or suicide
Seek Help Immediately
Nearly 15 million people in the United States are affected by depression. If you are depressed for an extended period of time and can't seem to move beyond it, please contact your doctor, therapist, or a suicide hotline. Therapy appointments are also available online for your convenience. National Suicide Prevention Hotline: 800-273-8255.
Just a Bout of the Holiday Blues
Stress, anxiety, and depression can also be a 'normal' part of dealing with issues that arise. If you are not clinically depressed but could use a few tips to destress and unwind, the list below is a great place to start.
6 THINGS YOU CAN DO TO UNWIND AND FIND RELIEF FROM DEPRESSION AND STRESS
#1 Talk to someone. Talking to someone about how you feel can help significantly.
#2 Take time to watch your favorite Christmas or holiday movie, or enjoy some cocoa and gingerbread cookies.
#3 Buy gifts for children in need or volunteer to get involved in the holiday spirit.
#4 Spend time with loved ones or simply enjoy the atmosphere. If you've got a friend that you can do something special with or visit, that can lift the spirit immensely. If you're new to town or you're loved ones are traveling, make a point to get out and enjoy the holiday decorations in your neighborhood.
#5 Find a creative outlet to take in the festivities. Perhaps you love painting, cooking, or making crafts. If these hobbies bring you joy, that's a great way to feel useful and enjoy your time. It's also even more beneficial to donate or gift what you've cooked or made to someone else. Giving is a great way to boost your mood.
#6 Destressing is key. Find the time to meditate, pray, take a warm bath, go to the spa, or exercise, as these can help the body and mind relax and rejuvenate your soul.
Aston Gardens at Tampa Bay is one of the most highly sought after communities, due to their dedication to senior needs, their commitment to enriching the lives of each resident and their families by providing personalized care, welcoming living spaces, and superior amenities within three distinct tiers, which include independent living, assisted living, and memory care facilities.
ASTON GARDENS AT TAMPA BAY
Aston Gardens is a luxury senior living community offering the best combinations of active-adult lifestyles and personalized care services. Wake up inspired each morning with a wealth of amenities, activities, and support at your doorstep. Explore the stylish Grande Clubhouse and indulge in our unique lifestyle services: Sensations Dining, Celebrations Activities and Dimensions Wellness.
Let our dedicated team members handle transportation, maintenance, housekeeping, concierge services and more. Here you will find compassionate people engaged in enriching the lives of seniors, ensuring their needs are taken care of every day. Aston Gardens At Tampa Bay offers the best value in affordable, carefree, senior living. Everything we do is focused on providing you the very best in senior living. It's all right here!
Now is the time to schedule your personalized tour! See why so many people want to call Aston Gardens their home!
Call 813-343-4673 today or visit  astongardens.com