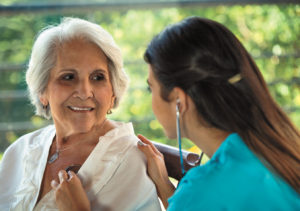 It's hard to believe that it is already 2020! With the new year, many people make resolutions for change. If you are a senior or a caregiver, it may be time to consider home health care.
Wisdom may come with age but getting older has its set of challenges. People are living longer but not necessarily healthier. From diminished eyesight, arthritis, immobility, to cognitive decline, some conditions make it high-risk and unsafe for seniors living on their own.
Keeping You Safe and Offering Specialty Medical Care
Lake Centre Home Care accesses each client's home for things that cause trips, slips, and falls like extension cords, bulky area rugs, slippery bathtubs, and uneven flooring, to name a few. They also try to make things logistically better within the home, like making sure the phone is within reach, clearing clutter, recommending assistive technology like walkers, hearing aids, long-reach activator poles, buttoning aids, bed and bath handles and medical alert devices.
In addition to safety, Lake Centre Home Care is a medical care team that specializes in treating seniors in the privacy of their own home. They also provide medical care for those who have recently undergone surgery, strokes, cardiac procedures and other treatment or conditions that require therapy and assistance.
Lake Centre Home Health Services
. Skilled nursing services
. Physical Therapy
. Occupational Therapy
. Speech Therapy
. Home rehabilitation services
. Nursing assessment at each home visit to monitor and manage progress
Lake Centre Home Care can also help with medication management to make it easier for seniors to remember to take which pills at what time. It is not uncommon for seniors to become malnourished, so Lake Centre Home Care can also make arrangements to make sure clients are eating nutritious meals on a regular basis and getting plenty of liquids.
When it becomes taxing to complete essential tasks like driving to the grocery store because they get lost, or they are apprehensive about driving in heavy traffic, they may need someone to step in and to help them make decisions for their long-term care options, so that they can live a safe and healthy life.
The AARP reports that 89% of patients want to remain in their home, Lake Centre Home Care provides private supportive care for those who want to maintain their independence, yet need some form of assistance. In addition to coming to your home, they are available to support their clients with temporary stays in the hospital, or by recommending senior care facilities or wherever help is needed.
Lake Centre Home Care is a skilled home health agency that provides nursing; physical, occupational, and speech therapy; along with home health aides and medical social services.
Lake Centre Home Care offers comprehensive patient care. Lake Centre Home Care accepts Medicare Assignment and private insurance with pre-authorization.
Lake Centre Home Care
310 Market St., Leesburg, FL 34748
(352) 315-0050
HHA# 299992424