With a passion for on-going education, community service
and creating a family culture, this industry leader and his team
help retirees achieve "Your Life, Your Way."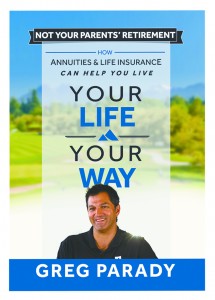 In his first book, Not Your Parents' Retirement: How Annuities and Life Insurance Can Help You Live Your Life Your Way, Greg Parady, CEO and Founder of Parady Financial Group, explains how to use a wide array of financial instruments to maximize the living benefits of life insurance and annuities to establish guaranteed income for life and create a tax efficient retirement, while protecting principal from stock market volatility.
Parady's book is scheduled to be released this summer and below is a sneak preview of the book's "Forward" by renowned retirement expert Ed Slott:
If someone told you that they could guarantee you won't ever lose money in retirement, you would rightly doubt that claim, or say "Where can I sign up for that?" Greg Parady has built a well-respected firm, Parady Financial Group, which offers a variety of financial services including financial planning, insurance services, investment advice and tax planning.  They focus on conservative strategies for retirement income – that core principle – guaranteed* retirement income, and their clients love it.
Even more impressive are the wonderful relationships Parady Financial Group has built with their clients. This is not a blind endorsement. I have seen this first hand. When I visit with their clients, it seems like I am at family function, with food, music, entertainment and oh yes, great retirement income planning information.  When was the last time you danced at an informational retirement income planning event?
Their clients are like their family and it shows. It is so nice to see retired people so financially confident, knowing they have reliable supplemental income during their retirement years.  Parady Financial Group has cultivated these relationships over many years by creating customized retirement income strategies based only on what's best for their clients and their families. You can see that their clients are not concerned about outliving their money, which is a concern we see in a lot of retirees in the U.S. That's why they are so lively and cheerful, and it's fun to be around them. They make me feel young! You really have to see this for yourself, like I have.
But there's more. Another ingredient that makes this all work so well for Parady Financial Group is that they never stop educating themselves. Clients need to know that their financial and insurance professionals have the specialized knowledge of how to leverage their retirement assets to make them last throughout their retirement years.
Financial and insurance professionals generally help you grow your money during your working years, but that's only half of the game. Protecting your assets and making them last is often a missing ingredient during the accumulation years. At Parady, Greg created a strategic planning firm that focuses on two of the biggest financial challenges in retirement: protection of assets and minimization of taxes.
In retirement, it's what you keep after taxes that counts because that's the money you can actually spend and enjoy. More taxes means less for you, just when you need it most – in retirement.
I believe taxes are the single biggest factor that separates people from their retirement dreams and money. But the problem is that most firms do not have the specialized tax planning knowledge, and that puts their clients' retirement savings in jeopardy.
Parady Financial Group make it a priority to help you minimize taxes in retirement. I know that for a fact because I see Greg and the Parady team of professionals at our advanced training programs on retirement tax planning as members of "Ed Slott's Master Elite IRA Advisor Group." Less than one percent of professionals in the country have this level of training. If you are heading into retirement or already there, wouldn't you want to be working with a firm that values both education and client relationships above all else? Of course you would.
Parady Financial Group's story is a model for all others. When I see their clients, I know you want your trusted financial and insurance professionals to operate like this.  Don't you?
-Ed Slott, CPA
Retirement Expert and Founder of www.irahelp.com
Ed Slott's Elite IRA Advisor Group
Slott was named "The Best Source for IRA Advice" by The Wall Street Journal and called "America's IRA Expert" by Mutual Funds Magazine. He is a nationally recognized IRA-distribution expert, professional speaker, and the creator of several public television specials.
He and Parady have become well acquainted in recent years as Parady Financial Group expands its national reputation for helping retirees, and those approaching retirement achieve piece of mind and financial confidence.
Slott has been a regular guest speaker at Parady Financial's Retirement Learning Lounge – a one of a kind clubhouse style education center dedicated to on-going learning for people that have chosen the Villages lifestyle for their retirement years.
The Retirement Learning Lounge, located at Brownwood in the Villages, is a comfortable and beautiful space but also a concept that builds the foundation for a long-term relationship between Parady and its members.  The Learning Lounge program allows Parady and its staff to get to know people before discussing specific retirement needs.
The education model is designed to allow people to learn at their own pace and get information through a process of osmosis.  The gradual absorption of complicated retirement issues and insurance-related strategies is a more effective approach than a single sales pitch. The Learning Lounge is where people get to know what Parady Financial Group does as well as learn about a variety of retirement topics, from annuity strategies to understanding IRAs and navigating the complexities of the tax code.
Greg's signature presentation on retirement planning is at the core of the new film documentary entitled "The Greg Parady Story."  Directed by three-time Emmy Award winner Nick Nanton, the film's first and second segments played at the Barnstorm Theatre in The Villages twice in January and also aired on Fox Business News and Bloomberg Television. The film is screened weekly at the Parady Learning Lounge at Brownwood. It has now also been converted into an easy to use video book that is part of a multi-media brochure; the user can open it up, press "play" and watch.
Parady Financial's open house events mix business with pleasure, and are a great opportunity to meet other clients, ask them how they feel about the firm and find out how the strategies Parady Financial developed for them have positively impacted their lifestyle. "The first thing you will notice when you attend one of our Learning Lounge sessions is that we are not the norm when it comes to financial services," says Greg. "We believe our signature strategies speak for themselves, and are a good fit for many people."
Parady and his growing staff of high-level financial industry professionals provide their retirees individualized, conservative retirement strategies.  "Our goal is to create a plan about you – your life, your way," says Parady.  "We focus on exit strategies, helping people transition from the accumulation phase of saving for retirement to the preservation phase of living in retirement – so people can focus on making memories and living the retirement they dreamed of."
Giving Back and Paying Forward
Having achieved success as an entrepreneur from humble circumstances, Greg has long believed in giving back to the community of The Villages, where he has lived, built and grown his firm since 2001.  Some of his more notable giving has made national news. He became something of a media sensation during the Christmas rush of 2013 as the "Layaway Santa."  In a spontaneous burst of holiday spirit, Greg paid off $21,000 in customer layaways for 76 families, all complete strangers, at The Villages Wal-Mart. The story was reported on all local major network affiliates, and then picked up on national and international wire services, including the Huffington Post, CNN, MSNBC, "The Today Show" and "Good Morning America." Time Magazine featured Greg as one of the "Five Times People Actually Saved Christmas."
In a December 23, 2014 article called "Layaway Angels Soar to New Heights, Buying Strangers Over $50,000 in Gifts" published on NBC News' Today.com, writer Ben Popkin described Greg's more recent community contributions. "This year he paid off over $16,000 in layaway plans. This is his second year of being a surprise layaway angel. Parady didn't stop there, giving away over $101,000 this holiday season. To spread the cheer, he gave students and clients pre-loaded $100 and $25 gift cards with instructions to spend it on someone else, preferably a stranger. Greg also donated over 200 laptops to local lower-income schools to help the students prepare for the new Florida state assessment tests, which this year have a typed essay component."
As it says on the Parady Financial website, "Layaway Santa is at it again…But this year, he's encouraging his entire community to get in on the act. (Greg) may soon be known as the guy who convinced his entire community to Pay It Forward."
Greg and his team also created Parady Cares, a non- profit dedicated to helping several local schools with reading and study materials and food and clothing for needy children. Other 2014 endeavors included Breast Cancer Awareness Fashion Shows, We Bike for Kids, an Alzheimer Family Organization Walk and a Toys for Tots Drive. The charitable, family and community atmosphere has helped Parady Financial grow from 18 to 37 full time employees in the past year.
The Parady Financial team deeply respects Greg's many accomplishments and vision for the future.  They recently nominated him for two high profile awards – one for Entrepreneur of the Year (EOY) and the second for a leader in chartable contributions. The first award is given to entrepreneurs in different regional markets in the U.S. by Ernst Young, a globally integrated professional services company. The other nomination is from the Invest in Others Charitable Foundation, a public charity organization devoted to recognizing talented and successful people who are making a profound difference in the lives of people in their communities.
As you can imagine, Parady's clients think he's pretty special too – not just because Parady Financial helps them live financially confident in retirement but because Greg has helped foster a dynamic and expanding social circle, which offered numerous ways for them to give back.
Cory Greico says, "We just took an epic family cruise with 24 of us, our kids, our grandkids, the spouses, everything, and it was amazing! And we wouldn't have been able to do that if it weren't for the plan Greg put in place for us." Joanne Castigliego adds, " As we got older and we got towards the end of our working life and towards our retirement life, the market became so much more unstable. Instead of a two-point market trend the market was 30 points up, 20 points down, 30 points, 10 points up, 40 points down. I don't miss that one bit. The market can go up 100 points or down 200 points and I'm good. I can sleep at night now!"
Client Bill Walter taps into the heart of Parady Financial's mission when he says, "Greg has a different approach. He recognizes that no two families, no two individuals are the same and he does a lot of learning about the clients before he event suggests what products might be useful. Greg spends a lot of time educating folks so they know what it is that they might be investing in, and know that it's something they will be comfortable with. Where others may do a pretty good job, I think Greg does a better job from the educational standpoint."
Another client, Mac Selvidge says, "I remember the night we sat here and Greg was talking about seeds and trees and whatever and how you get from here to there," he says. "We had been with a financial planner in West Palm Beach for 20 years… Greg's here talking about getting out of the acquisition mentality and getting more into the distribution mentality. (My wife) Charlotte leaned over in the middle of the conversation and said to me, "Why isn't our guy talking about this stuff?"
When people walk into Parady Financial offices they spot a phrase on the wall above the aquarium: "We Are Family." Greg credits his Managing Partner, Cindy Nazzaro, with fostering their family environment.  "Cindy's in charge of overseeing the team that takes care of clients and loves on them constantly, which helps build a different kind of relationship and continues long after people start to work with us," Greg says. "We take the position that if you've trusted us with your retirement future, then you deserve outstanding service."
Clients Ruth and Dick Steeves attest to that. "It is a family, absolutely is a family," they say. "I don't know how to explain it any different than that, because they are concerned about you, like if you're sick they will call you. You're not going to get a better firm to invest with. With Parady Financial and what they have done for us, we can go to bed and not have to worry about tomorrow. Sounds almost to good to be true, but since we found out that it is true we're constantly recommending Parady to our friends and associates."
Parady Financial Group, Inc
. works closely with Parady Tax Solutions, LLC and Parady Investments, LLC to provide various services to our clients.  This testimonial is provided to support the sales of annuities and life insurance.  The Parady Annuity and Life Insurance division of Parady Financial Group provides retirement income planning strategies and sells fixed indexed annuities and life insurance products.  *Annuity guarantees are backed by the financial strength and claims- paying ability of the issuing carrier.  Parady Tax Solutions is an accounting and tax firm that helps provides tax planning and tax preparation for our Parady Financial Group clients.  Parady Investments is a Registered Investment Advisory offering financial planning services; not all Parady employees are registered, including Greg Parady.  A full list of Parady team members and their licenses and certifications is available on our website at: http://www.paradyfinancial.com/parady-financial-staff-licenses-certifications/.