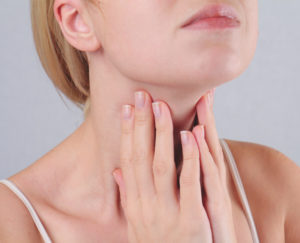 During your yearly physical, did you ever wonder why the physician places their hand on your throat and asks you to swallow?
This common test allows Your doctor to check for thyroid nodules. Although thyroid nodules are extremely common and usually benign, there are growing numbers of people with thyroid cancer and other thyroid issues.
The thyroid is a butterfly shaped gland. It produces two main hormones that regulate body temperature, metabolism, heart rate and other factors. These two hormones are T3 and T4.
In recent years there have been several celebrities that have shared their personal stories of thyroid issues. Most recently, Supermodel, Gigi Hadid shared that she suffers from Hashimoto's Disease, which is an autoimmune disease that attacks the thyroid.
Along with cancer and Hashimoto's, thyroid nodules could suggest that that you may suffer from hyperthyroidism or hypothyroidism. If left untreated, thyroid issues can lead to dangerous conditions like AFIB, blood disorders and heart disease.
Hyperthyroidism Symptoms:
• Overactive appetite
• Fatigue
• Anxiety
• Nausea
• Lack of concentrate
• Irregular heartbeat
• Sleep disturbances
• Dry/Brittle & hair breakage
• Itchy dry skin
With Hyperthyroidism, an overproduction of the T3 and/orT4 hormones causes the body to react to the over secretion of the thyroid hormones in negative ways. The most common form of this disorder is Grave's disease, which is an autoimmune disease. Grave's causes the body to attack it's on thyroid gland. Other causes can be from genetic mutations (can run in families), and tumors in the ovaries or testes.
Hypothyroidism Symptoms:
• Tendency to be cold
• Dry itchy skin
• Swollen eyes
• Forgetfulness
• Lack of concentration
• Lack of appetite
• Weight gain
• Fatigue
• Menstrual changes
• Hair loss
• Depression & anxiety
With hypothyroidism, the thyroid is underactive, producing too little T3 and/ or T4 hormones. The causes of hypothyroidism are autoimmune diseases, like Hashimoto's, surgical removal of the thyroid (cancer patients), environmental radiation exposure, or radiation treatment of the thyroid. Although there is no cure, there are many different medications available to successfully treat hyperthyroidism and hypothyroidism.
Quick Care Urgent Care offers more than just urgent care services, and they are preparing to add much more to their already vast list of therapies and services for the Ocala community!
Quick Care Med Urgent Care
If your health needs are not emergent like a heart condition or other impending life-saving issues, the benefit of urgent care in comparison are numerous. To name a few, the wait time will be much shorter.
For the most part, urgent care can see their patients within an hour. The cost is also much less with urgent care than it is with emergency room treatment. Quick Care Med urgent care provides you with the proper paperwork to follow up with your primary care physician or specialist, as urgent care takes initiatives to keep the line of communication open to make certain that your treatment is a top priority.
There are numerous reasons people go to urgent care, from sore throats, skin infections, school sports physicals, vaccinations, colds and flu, sprains, heat exhaustion, animal bites, dehydration, broken bones and much more. Before you go to the ER, consider if you could instead be treated at urgent care because of the numerous benefits to you and your loved ones.
Quick Care Med Walk-In Clinic & Urgent Care is a comprehensive urgent care clinic with multiple specialties to serve you. Quick Care Med has locations in Marion (Dunnellon and Ocala), Citrus (Crystal River, Inverness, Beverly Hills, and Homosassa), Levy (Williston), & Alachua (Newberry) counties that provides immediate walk-in treatment to pediatric and adult patients for illnesses and injuries, wellness exams, and employer health services.
At Quick Care Med, they understand that illness and injuries can happen outside of the normal 9 to 5. That's why they provide Fast, Easy, and Affordable® urgent care with the convenience of extended hours, including weekends and holidays!
From the lab testing, treating the common cold to broken bones, Quick Care Med Walk-in and Urgent Care revolves around getting you back to feeling your best!
3 Locations in Ocala
3415 E. Silver Springs Blvd, Ocala, FL 34470
(On Silver Springs Blvd. across from Publix)
8119 SW State Rd 200, Ocala, FL 3448
(Just past Walgreens)
6341 N US 441, Ocala, FL 34475
(Across from John Deer)
Quick Care Med
Walk-In Clinic & Urgent Care
844-797-8425
www.quickcaremed.com