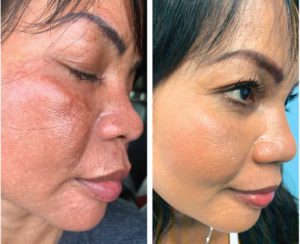 We have exciting news at Brandon Stem Cell Clinic! We are now offering Stem Cell Facial Resurfacing treatments. If you or someone you know has suffered with Acne Vulgaris and Rosacea you know how devastating this can be. The disfiguring scars and extreme redness cause embarrassment and low self-esteem in adolescents and adults. The many treatments offered, like chronic antibiotic use up to Accutane, extractions, even surgery can be dangerous and painful. Finally, there is a natural, safe and highly effective alternative. If you suffer from Rosacea, acne and acne scars from years past then we want to help. Regenerative medicine has come to the face and the results speak for themselves.
HOW IT WORKS:
Stem cells are used to reduce inflammation all over the body and the face and are very effective. You would come into the office for a consultation to speak with our provider and in many cases, could get treatment that day.
The face is numbed for approximately 30 minutes in preparation of the procedure. A micro needle is used to prepare the skin, and then stem cells are injected directly into the treated areas. The whole process takes approximately 90 minutes.
Here are some pictures of our stem cell patients for Rosacea, Acne and scarring.
INTRODUCING
OUR NEW PROVIDER
We are pleased to introduce our new provider, Brian Whaley, ARNP-BC. A graduate of Georgetown University Neonatology ARNP program, his career spans decades which started with the life and death responsibilities in managing the sickest and tiniest babies in the NICU and delivery rooms.
A colleague piqued his interest when he suggested to Brian that he venture into the Aesthetic Medicine realm because of the hand-eye coordination that developed after years of working with tiny babies. He was trained in the basics of Botox and Fillers but quickly proceeded to advanced fillers and techniques of cosmetic dermatology.
Gaining a reputation as a talent, he was recruited and sought after by one of Miami's most prestigious practices, The Miami Institute. While working there for years as he raised his family, he was mentored by Florida's top Plastic surgeons and Anti-aging Physicians. Brian became the Aesthetic medicine provider and injector to a "Who's Who" of local and international celebrities and became an often-requested provider for the physicians.
Brian went on to become medical director at one of the largest aesthetics training programs in the U.S. where he trained doctors and nurses from all over the world in advanced facial techniques. There he developed the 3D face Injection Method ™ and began to perfect and teach this method.
The face is a three dimensional uniquely identifiable part of the human body, above all else… it identifies us, as us. The loss of the forward projection of the face during aging renders us almost generic as we age. We begin to
appear more skeletal and it hollows the outline
of the facial bony structure.
In 2016, Brian moved to Seattle where he worked to help people who were in pain to decrease the use of their pain medications. The project was geared toward natural pain control and healing their injuries via Mesenchymal Stem cells. In a short period of time he noticed those who opted to use the stem cell therapy were healthier, happier and able to discontinue or greatly reduce their pain medicines. After watching this time and again, he decided that he wanted to experience this stem cell treatment for his long term shoulder pain. Brian received a stem cell therapy treatment for his shoulder and his shoulder pain is now gone. Interestingly enough, a chronic skin condition went away and he saw a noticeable improvement in mood and energy. After personally experiencing all this improvement, he sought to hone his skills and has spent the last four years treating many patients to help them get back to doing the things they love, with the people they love.
In our office we offer complimentary candidacy evaluations for anyone who would like to see if they are a stem cell candidate. In addition to the facial resurfacing, we help people looking for an alternative to joint replacements (ie, knees, hips, shoulders, wrist, ankles), lung conditions, and those with arthritis.
For the month of July, we will be offering a 33% off special for stem cell facial resurfacing treatments in our office. Call today to schedule your consultation, 813-800-(STEM)7836. We look forward to hearing from you!
Brandon Stem Cell Clinic
813-800-(STEM)7836
1602 Oakfield Drive,
Suite 101
Brandon, FL 33511