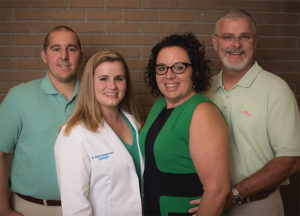 Remember those old Hollywood movies where the town doctor would arrive at the door with his big medicine bag? House calls from doctors are very rare these days but, Dr. Monica Barnes doesn't mind making them if it helps her patients. "Sometimes it's easier for me to go to my patients, especially those with other medical complications or transportation limitations," says Dr. Barnes.
In a big city like Tampa, there are some very big and nationally known corporate hearing centers with multiple audiologists on staff. Sometimes patients feel like just a number to these corporate big wigs.
At Family Hearing Center, Dr. Barnes personally works with every patient, one on one, to help identify and treat hearing concerns.
Dr. Barnes' comprehensive style and personalized approach has endeared her to her patients.
Here are just a few of the 5 Star Reviews she regularly receives:
Sheila says…
"I had a wonderful experience here at Family Hearing Center!! I had previously visited a different clinic a few days before where I had treatment done that left me in pain in one of my ears. But I was very fortunate to have found Dr. Barnes and her amazing team! As soon as I walked into their office the atmosphere was very welcoming, I was greeted with a smile. She's such a sweet and compassionate doctor. She was able to see me right away, addressed my pain and even took the time to explain and even show me in detail through photos what was going on inside my ear. I can't thank Dr. Barnes and her team enough!"
Desiree says…
"Dr. Barnes is a knowledgeable and compassionate audiologist. We are very lucky to have found her and have her in our community. She helped a family member of mine with tinnitus and hearing loss. I could not recommend her more highly."
Robert says…
"Great experience, very professional, someone to trust"
Her practice truly is a family affair as Dr. Barnes' Mom and Dad (Natalie and David) help with patient scheduling and coordination, along with the office cat, Mr. Puff. Dr. Barnes grew up in the Temple Terrace area and went to the University of South Florida for both her bachelorette and doctoral degrees. "I'm a true Tampa girl, through and through" she says.
If you or a family member are experience hearing loss or hearing related issues, call 813-899-1651 to schedule your FREE hearing healthcare check-up.
Family Hearing Center
813-899-1651
9804 North 56th Street
Temple Terrace, FL 33617
familyhearingcenteroftampa.com