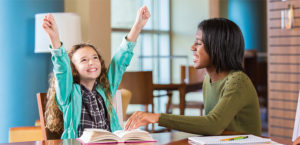 When children and teens are struggling in school, it's usually due to a lack of fundamental knowledge in a particular subject. Even as adults, we are continually building upon the skills and knowledge that we have to learn new programs for work or to prepare for an upcoming promotion. True of both children and adults, if we lack the basic foundations of our skills or advancing our education, we will almost always fall behind our peers.
Perhaps your child missed quite a bit of a semester due to an illness, or maybe your child is shy and doesn't speak up when they have questions, they might have poor study habits, or their teacher might not connect well with how they learn, these are all common stumbling blocks for educational advancement and success.
There have been multiple studies that correlate the relationship between children with high self-esteem and their ability to succeed in school. This ability is mostly thought to be from a sense of not wanting to fail, but this theory doesn't always hold true and is highly debatable.
The more realistic view of self-esteem and academic success is in studies on children with low self-esteem. In these cases, the students often have a more difficult time learning than their counterparts due to the lack of confidence that has escalated from previous failures. It's also important to keep in mind that self-esteem doesn't always play a role in learning. In fact, many students have other learning issues altogether like dyslexia, the need to learn new study habits, the need for more visual aids or better problem-solving skills in order to advance.
The first KnowledgePoints opened here in Pasco County ten years ago in Land O Lakes, with the second location blooming in Trinity shortly after to offer two convenient Pasco County options. KnowledgePoints is an advanced tutoring center that excels in remediation, enrichment, and test preparation. They see children, teens, and even adults of all ages and specialize in the ABC's to the SAT's. And consistently, they repeatedly see students that have a change not only in their learning abilities but also their confidence levels.
KnowledgePoints provides superior supplemental education services to benefit children, parents, and educators to help them achieve success in school and life in communities across the nation.
The KnowledgePoints Land O Lakes Center Director, Randee Williams has had a successful and varied career in both direct student instruction and education administration. Her personal experience with tutoring and how it helped her child's confidence speaks volumes about the importance of children believing in themselves. She says, "My son did poorly in middle school math and really hit the wall when he started high school. He was sinking fast, so I got him tutoring. After two sessions, the tutor told me my son did not believe he could learn math because he thought his brain was wired differently than other students. Once the tutor was able to convince my son that he COULD learn math, he went on to do well in high school math. Several years later, when he graduated from college, his first job was a middle school math teacher! So I know both personally and professionally that every student can be successful given the right encouragement and instruction."
KnowledgePoints' services include tutoring in reading, math, and writing, homework help, a study skills program, and SAT/ACT preparation to name a few. Not every child is the same, nor should their tutoring be a one size fits all approach. With affordable tutoring and proven results, contact KnowledgePoints today to help your child succeed in school and in life with confidence.
KnowledgePoints has two convenient locations in Pasco County to serve you!
KnowledgePoints Trinity
10720 State Road 54 Suite 110
Trinity, FL 34655
727-484-6178
www.Trinity.KnowledgePoints.com
KnowledgePoints Land O' Lakes
2201 Collier Pkwy
Land O' Lakes, FL 34639
813-909-0781
www.LandoLakes.KnowledgePoints.com
Hours of Operation
Mon – Thurs: 11:30am – 7:30pm
Friday: Closed
Saturday: 9am – 1pm
*They accept the Gardiner Scholarship and the new Step Up for Students Reading Scholarship!