By Jodi Thomas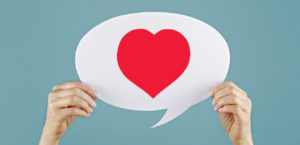 I love Valentine's Day. Not just the flowers and the chocolate and all that good stuff, but I have always loved the idea of celebrating love . . . and on a trivial note, seeing all the pink and red hearts just makes me happy for some reason.
Lately I've been thinking a lot about my own heart. When reflecting on 2019 and what I hope for this year, I really desire to live wholeheartedly. And the first step in doing this is learning to pay attention to my heart. I'm reading a great book right now called Soulful Simplicity by Courney Carver. I highly recommend it. In the book, she discusses living wholeheartedly and that we have to learn to listen to our hearts. She has an exercise where in a quiet moment, you place both hands on your heart, one hand on top of the other, and just sit in the quiet for a moment or two, and ask yourself, "What is my heart saying? What is my heart feeling?"
Yet, most of us are terrified to do this. Why? Because, without a doubt, most of us are never taught to listen to our hearts. We are taught to "suck it up," to keep pushing forward, to fulfill our myriad responsibilities, regardless what our hearts might be saying, or trying to say. And there are many times where we have to do just that—it's part of being an adult. But there's an equal, if not more, need for us to listen to those precious hearts of ours, that have often long been covered up by obligation, fear of what other people think, busy-ness, and self-medication with our vices of choice.
The primary reason we need to learn to listen to our hearts are that our hearts are very important to God. Proverbs 4:23 says, "Above all else, guard your heart, for everything you do flows from it." Think about what that says and the implication of it. Both good and bad flow from our heart, based upon the state of our heart. Ignore your heart for too long, and this is disastrous for living the kind of life that you once imagined for yourself.
In fact, our hearts are so valuable to God that they are the very place that Christ has decided to take up residence. Ephesians 3:17 says, "I pray that out of his glorious riches he may strengthen you with power through his Spirit in your inner being, so that Christ may dwell in your hearts through faith." Additionally, Romans 5:5 says that God pours out His love into our hearts. Now, I spend a lot of time nurturing my relationship with God. But to be completely honestly, many times I don't feel God's presence or love. These are things that I have to take by faith. But even this comes from the heart, for Romans 10:10 says "For it is with your heart that you believe and are justified, and it is with your mouth that you profess your faith and are saved."
When I truly believe these truths, which comes from my very heart, that Christ actually lives in my heart and God's love is poured into my heart, I am empowered to live in God's love and to express that love to others in my day to day life. And folks, there is just nothing in life more important than that.
Not only does God reside in our heart, he desires to protect it. Philippians 4:7 says "And the peace of God, which transcends all understanding, will guard your hearts and your minds in Christ Jesus." How does the peace of God guard our heart? It guards it against worry, against anxiety, against unforgiveness. . . all of the things that wreck havoc on our hearts and create stress in our lives.
Our hearts are so valuable to God, that He desires all of our hearts. In Luke 10:27, Jesus said the greatest commandment was to "Love the Lord your God with all your heart and with all your soul and with all your strength and with all your mind."
When you see those pretty pink and red hearts this Valentines Day, I hope you are reminded that your heart is a unique treasure to God. There is no other heart like yours. It is so valuable to Him that Jesus died on the cross so that He could live there and God's love be poured out into your heart. Because your heart is of the utmost value to God, you need to value it, too. Learn to listen to it. Learn to respect it. Don't ignore it. I hope you will join me in the quest of living wholeheartedly in 2020.