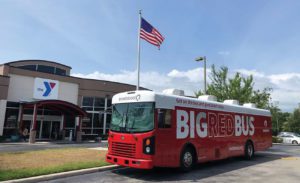 The YMCAs of Tampa Bay are partnering with local blood banks to help address the blood shortage due to the coronavirus temporarily shutting down large companies and schools that would usually host blood drives in its parking lots.
That's why the YMCAs of Tampa Bay stepped up with OneBlood and LifeSouth to act as hosts. The Tampa Metropolitan Area YMCA will hold blood drives at 10 locations, including the South Tampa Family YMCA, Bob Sierra North Tampa YMCA, New Tampa Family YMCA and East Pasco Family YMCA on Thursday, May 21st.
"We always look to see how we can serve the community and with our membership operation shutdown, we've pivoted to fill some vital needs in the community," says Tampa YMCA President & CEO Matt Mitchell. "A lot of people when they think of the YMCA, think of the YMCA as a place where kids learn how to swim or do youth sports, or go to camp and other fun programs, which is all true, but the core of the YMCA is we are a charitable not-for-profit and we do lots of charitable things in the community."
The YMCA of the Suncoast and YMCA of Greater St. Petersburg held blood drives at several of its locations on April 17th. OneBlood reported a total of 76 donors which equals 228 lives positively impacted by the selfless giving of those at the YMCA. LifeSouth reported a total of 34 people donating blood at the YMCAs in Citrus and Hernando counties.
"We appreciate the YMCAs of Tampa Bay for their lifesaving partnership," says Amy Lee, Manager of Donor Recruitment, OneBlood Pinellas & Polk Counties.
Bloodmobiles are also taking extra precautions to ensure participants in the blood drive can still practice social distancing as best they can. OneBlood is using a sign-in sheet and will call the donor when it's their turn and when there is room within the mobile bus to start the donation process. No more than four donors will be allowed on the mobile bus at a time. Staff will clean and decontaminate by spraying disinfectant on beds between donors and periodically wiping down other frequently-touched surfaces like handles, clipboards, pens, etc. Staff will wear gloves and a disposable mask.
The Tampa Y will host the following donation blood drives at 10 YMCA locations across Hillsborough and East Pasco counties to ensure ready blood supply for the community:
Thursday, May 21, 11am – 5pm
BOB GILBERTSON CENTRAL CITY FAMILY YMCA
110 E. Palm Ave. Tampa, FL 33602
BOB SIERRA NORTH TAMPA YMCA
4029 Northdale Rd. Tampa, FL 33624
CAMPO FAMILY YMCA
3414 Culbreath Rd. Valrico, FL 33596
EAST PASCO FAMILY YMCA
37301 Chapel Hill Lp. Zephyrhills, FL 33542
NEW TAMPA FAMILY YMCA
16221 Compton Dr. Tampa, FL 33647
NORTH BRANDON FAMILY YMCA
3097 S. Kingsway Rd. Seffner, FL 33584
NORTHWEST HILLSBOROUGH FAMILY YMCA
8950 W. Waters Ave. Tampa, FL 33615
PLANT CITY FAMILY YMCA
1507 YMCA Place Plant City, FL 33563
SOUTH TAMPA FAMILY YMCA
4411 S. Himes Ave. Tampa, FL 33611
SPURLINO FAMILY YMCA
9650 Old Big Bend Rd. Gibsonton, FL 33534
All donors will receive a free OneBlood t-shirt and a free wellness checkup including blood pressure, pulse, tempera-ture, iron count and cholesterol screening. For more information or to make an appointment visit oneblood.org/ymca or call 1.888.9.DONATE (1.888.936.6283).