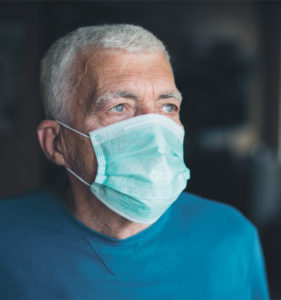 As with the flu or other infections, COVID-19 is particularly challenging for the elderly patient population. Those over the age of 60 are having more difficulty fighting the viral infection and many are facing life-threatening symptoms. As with influenza, the risk of breathing dysfunction and pneumonia are what's causing the virus to take such a great toll on seniors. The FDA is working on drugs that are thought to kill the virus, but until then, it's detrimental that all seniors practice good hygiene, and avoid contact with others until the infectious spread has decreased. At this point we're all uncertain of how long the virus will continue to spread, so the following helpful tips, can keep you safe.
Boosting the Immune System
If you must go out, please treat every person and every area as if contaminated. Wash your hands and disinfect areas that you may have touched. Maintain good healthy habits such as sleeping 7 to 9 hours, eating nutritious meals, practice calming techniques, and consider supplement the immune system with extra vitamin C and any herbal remedies of your choice.
Proper Hand Washing
Wash your hands often with soap and water for at least 20 seconds, especially after going to the bathroom; before eating; and after blowing your nose, coughing, or sneezing. If soap and water are not readily available, use an alcohol-based hand sanitizer with at least 60% alcohol. Always wash hands with soap and water if hands are visibly dirty.
Social Distancing
If we abide by the social distancing recommendations and hygiene, we should see the virus taper off and phase out much quicker than if we continue to go about our lives unchanged. Take this time to enjoy quality time with your family and friends via video chats, social media, or on the phone. If you are in need of groceries or toiletries, ask someone to drop those off at your doorstep, or order them online. Explain to those that might want to visit you, that you need to take extra precautions and avoid as much contact as possible at this time.
These tips are critical to stop the spread of this very contagious virus and to keep you safeguarded.
Lake Centre Home Care is taking extra precautions by using personal protective equipment, disinfecting any devices and high-touch point surfaces, and offering you peace of mind as you receive medical care at home.
Keeping You Safe and Offering Specialty Medical Care
Lake Centre Home Care accesses each client's home for things that cause trips, slips, and falls like extension cords, bulky area rugs, slippery bathtubs, and uneven flooring, to name a few. They also try to make things logistically better within the home, like making sure the phone is within reach, clearing clutter, recommending assistive technology like walkers, hearing aids, long-reach activator poles, buttoning aids, bed and bath handles and medical alert devices.
In addition to safety, Lake Centre Home Care is a medical care team that specializes in treating seniors in the privacy of their own home. They also provide medical care for those who have recently undergone surgery, strokes, cardiac procedures and other treatment or conditions that require therapy and assistance.
Lake Centre Home Health Services
. Skilled nursing services
. Physical Therapy
. Occupational Therapy
. Speech Therapy
. Home rehabilitation services
. Nursing assessment at each home visit to monitor and manage progress
Lake Centre Home Care can also help with medication management to make it easier for seniors to remember to take which pills at what time. It is not uncommon for seniors to become malnourished, so Lake entre can also make arrangements to make sure clients are eating nutritious meals on a regular basis and getting plenty of liquids.
When it becomes taxing to complete essential tasks like driving to the grocery store because they get lost, or they are apprehensive about driving in heavy traffic, they may need someone to step in and to help them make decisions for their long-term care options, so that they can live a safe and healthy life.
The AARP reports that 89% of patients want to remain in their home, Lake Centre Home Care provides private supportive care for those who want to maintain their independence yet need some form of assistance. In addition to coming to your home, they are available to support their clients with temporary stays in the hospital, or by recommending senior care facilities or wherever help is needed.
Lake Centre Home Care is a skilled home health agency that provides nursing; physical, occupational, and speech therapy; along with home health aides and medical social services.
Lake Centre Home Care offers comprehensive patient care including physical therapy. Lake Centre Home Care accepts Medicare Assignment and private insurance with pre-authorization.
Lake Centre Home Care
310 Market St., Leesburg, FL 34748
(352) 315-0050
HHA# 299992424