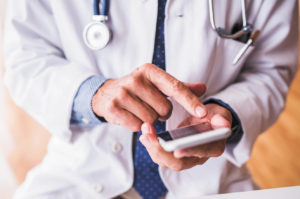 TeleHealth is a method to remotely connect with doctors or medical providers, which can help alleviate and assist with medical issues.
Traditionally, Telehealth has been useful in patients who are unable to commute in person to a doctor's office or who live in rural areas, with restrictions placed for access to patients with regular living conditions. But now, Telehealth is available to all Medicare recipients, regardless of where they live or even if they are new or existing patients to a practice.
With the sudden surge of the COVID 19 – Coronavirus pandemic, which has affected the lives of so many with quarantines, stay at home orders or travel restrictions; Telehealth has emerged as an important and useful way for patients to address basic health issues, receive medication refills and determine the need for evaluation in person at a doctor's office or hospital. With the government now easing some of its prior restrictions, Telehealth is poised as a tool to assist patients who are required to avoid social contact, are in a high risk population or currently have contagious illnesses.
The new regulations proposed by the White House and President Donald Trump allow for people with Medicare insurance to facetime through their phone to their doctor to have a "virtual visit" or communicate via email, and submit photographs or other information, such as blood glucose levels or blood pressure readings directly to the doctor's office. This allows for remote monitoring of hypertension, diabetes, skin disorders, and many more conditions, in addition to colds and the flu. Physicians are temporarily eased from prior stringent HIPAA law restrictions, that made phone facetime visits a HIPAA violation, in lieu of the current emergency conditions created by the Coronavirus pandemic. "When we say the cure can't be worse than the disease, that needs to apply to medical care as well, HIPAA laws cannot take precedence over saving lives," said Dr. Cortes with Novu Dermatology "It seems our elected officials have finally learned that with Coronavirus."
Many area physicians have added TeleHealth services to their practice, to assist patients in need. Dr Gil Cortes, MD, FAAD at Novu Dermatology is offering TeleDermatology consultations for new and existing patients and Dr. Cristina Cortes MD, Internist at Novu Dermatology is offering primary care consultations via TeleHealth for new and existing patients as well.
"We are assisting patients and triaging them to keep as many patients as we can out of the hospital or situations that may be dangerous for them, given their condition," mentioned Dr. Cortes "Mostly we want patients to feel safe, so we are spacing patient appointments, practicing social distancing, having providers use masks in the office and allowing patients to wait in their vehicles or even enter through the backdoor and bypass the waiting area completely. Any patients with cold or flu symptoms are sent for outside drive thru testing and told to self-quarantine until test results are back. "Luckily, until now, no cases have been identified in the practice, but we are well prepared to deal with patients via TeleHealth, who may have cold or flu symptoms and have a system for them to communicate with the doctor, receive prescriptions and follow up care."
We do know that TeleHealth is now better covered by Medicare, but what happens if you have private insurance or no insurance at all? Novu Dermatology offers self-pay patients a flat $75 fee, just to make it easier for patients to have access. "No one should see themselves in a situation where they cannot find a doctor, the medicine they need or have to put themselves in danger to receive medical care," mentioned Dr. Cortes, "As long as we are here, we will do our best to serve the needs of all our patients."
Gil Cortes, MD, FAAD
NOVU Dermatology
Practice Owner & Dermatologist
(352) 775-3565
NOVUDERMATOLOGY.COM
Rolling Oaks Professional Plaza
929 N. US Hwy 441 Suite 603
Lady Lake, FL 32159