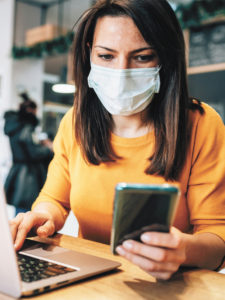 Due to COVID-19, we are all making changes and doing things in many different ways than before. Telehealth visits have been monumental in the medical field for the past few years, and with the spread of the coronavirus, the ADA and CDC have implemented new protocols to keep dental patients safeguarded, but also included in these new commissions are the approval of e-visits for specific conditions.
Laurel Manor Dental put out the following statement, "Laurel Manor Dental is following the Governor's protocols and seeing emergency patients only until, at least, May 11th. We are doing our part to keep our patients' dental health stable and prevent overcrowding at our hospitals. If you are having a true dental emergency, and are a current patient, please call 352.430.1710 and follow the directions on the voicemail. Our office is temporarily closed and will reopen as soon as the Governor's mandates have been lifted. Please stay safe and healthy! We look forward to serving you and returning to normal office hours soon."
Do you need a telehealth dental e-visit or an emergency visit?
Ask yourself the following questions:
1. Do I have intolerable pain?
2. Did I break or fracture a tooth?
3. Do I have an ulceration or painful lesion?
4. Did a crown or bridge fall off
If you answered yes to one or more of the conditions above, then it's best to contact Laurel Manor Dental via phone, and they will walk you through the e-visit, or schedule your emergency appointment. In some cases, they might need to refer you to a surgeon or other dental specialist or prescribe medication, but they are also prepared to help patients get out of pain in emergency situations.
In emergency visits, Laurel Manor Dental is using stringent protocols for disinfection of all equipment, instruments, surfaces, and flooring. They will not allow patients to have one on one contact with each other and have implemented strict social distancing regulations in the office. If you have an emergency appointment, you will not be around any other patients. As they navigate through this unprecedented time, it's their utmost priority to keep you and Laurel Manor Dental's staff safe and healthy through the next few weeks.
Laurel Manor Dental
At Laurel Manor Dental, our dentists and periodontists, Dr. Richard Rozensky, Dr. Lucia Roca and the entire dental team will listen to your goals for your oral health and will create a unique dental treatment plan especially for you. Whether you are in need of restorations to regain comfortable tooth function, or if you just want to keep your healthy smile through general dental services, Dr. Rozensky and Dr. Roca can help you, while also maintaining your overall physical health. Dr. Rozensky and Dr. Roca work closely with patients so they may make informed decisions about their oral health.
With advanced technology and dedication to the most up-to-date techniques in dentistry, rest assured that your visit will be comfortable and that you will see a bright, healthy smile in the mirror for years to come. Don't put off your good dental health! Instead, ensure a confident smile and healthy teeth that will allow you to enjoy the foods you love.
We offer all aspects of dental care and treatment, including restorative dentistry, general dentistry, and cosmetic dentistry. Procedures include dentures, partial dentures, implant-supported dentures, hybrid dentures, dental implants, tooth whitening, periodontal care, periodontal therapy, sleep dentistry and more.
If you or someone you love has a dental emergency, please call Laurel Manor Dental at (352) 430-1710 or visit laurelmanordental.com.