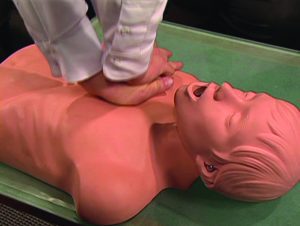 CPR & SUDDEN CARDIAC ARREST
While the terms heart attack, cardiac arrest and sudden cardiac death are often used as if they are synonymous, they aren't. A heart attack occurs when the blood flow supply to the heart muscle through a coronary artery is severely reduced or cut off completely. Typically this is from a clot, leading to damage to the affected muscle. A cardiac arrest occurs when the heart has an abnormal rhythm, which causes the heart to quiver so it can no longer pump blood to the brain, lungs and other organs. A heart attack increases the risk for cardiac arrest, but most heart attacks do not lead to sudden cardiac arrest, and cardiac arrest can occur in the absence of a heart attack.
Sudden cardiac death is an unexpected death due to a heart problem. It occurs soon (generally within one hour) after heart symptoms begin in a person who may or may not have been known to have heart disease.
Cardiac arrest is a leading cause of death in the United States. Each year, more than 350,000 out-
of-hospital cardiac arrests occur in the United States. Further, more than 209,000 people annually have a cardiac arrest while in the hospital.
WHY LEARN CPR?
When a person has a cardiac arrest, survival depends on immediately getting CPR from someone nearby.
Approximately 90 percent of people who suffer out-of-hospital cardiac arrests die. CPR, especially if performed immediately, can double or triple a cardiac arrest victim's chance of survival.
BE THE DIFFERENCE FOR SOMEONE YOU LOVE
If you are called on to give CPR in an emergency, you will most likely be trying to save the life of someone you love: a child, a spouse, a parent or a friend.
• 70 percent of out-of-hospital cardiac arrests happen in homes.
• Only 46 percent of out-of-hospital cardiac arrest victims get CPR from a bystander.
• African-Americans are almost twice as likely to experience cardiac arrest at home, work or in another
public location than Caucasians, and their survival rates are twice as poor as for Caucasians.
TAKE ACTION
The American Heart Association trains 17.8 million people in CPR annually. To find a course, please visit: heart.org/FindACourse. To learn more about CPR, please visit heart.org/cpr.