By Scottie Bull, PT, CLT-LANA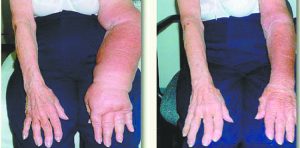 Lymphedema is an accumulation of lymphatic fluid in the tissue spaces that cause swelling, most often in the arm(s) and/or legs(s), but may also involve the trunk.  Swelling may develop when lymph vessels are missing, impaired or damaged, or after lymph nodes are removed.
Symptoms of Lymphedema:
1.    Increased swelling of limb(s)
2.    Tightly fitting clothes
3.    Feeling of heaviness
4.    Possible episodes of infections
COMPLETE DECONGESTIVE PHYSIOTHERAPY
Presently, the most effective and least invasive approach recommended by physicians is Complete Decongestive therapy, which is a non-invasive, safe, and effective method to reduce swelling. Complete Decongestive Therapy is a  combination of manual lymphatic drainage (Vodder Technique), bandaging/compression, remedial exercises and hygiene/skin care.
Since there is no cure for lymphedema, the goal of physical therapy is to reduce the swelling and maintain the reduction.
Treatment is performed in two phases. The duration of Phase I is approximately 1-4 weeks, depending on the severity of the condition. The treatment is done 1 time a day, 5 days a week. The goals in Phase I are to mobilize the accumulated protein-rich fluid and to initiate the reduction of fibrosclerotic tissues. In Phase I short stretch bandages will be applied to the affected extremity to prevent reaccumulation of fluid between treatments. During Phase I patients are also instructed in proper skin care, application of night bandages (once discharged from therapy), wearing of compression garments, remedial exercises, etc.
The goal of Phase II is the preservation and improvement of progress made in Phase I. Phase II begins once the fluid reduction plateaus. Phase II is performed in the patient's home. Prior to discharge from Phase I, patients will be custom fitted for a compression garment. During Phase II, patients will wear a compression garment during the day and may need to  utilize short stretch bandages or a specialized garment at night to maintain reduction achieved in Phase I.
Manual Lymph Drainage (MLD)
Manual Lymph Drainage is a very gentle manual technique consisting of four basic strokes. MLD re-routs the lymph flow around the blocked areas into more centrally located healthy lymph vessels that drain into the venous system.
The first step of MLD is to stimulate the lymph vessels in the non-affected trunk quadrant which results in a suction effect on the lymphatics of the affected trunk quadrant.
In the second step, fluid is pushed from the congested quadrant into the quadrant that is free of edema via tissue channels, initial lymphatics and lymph vessels.
Compression Therapy
Elastic fibers of the skin are damaged in lymphedema, therefore, it is necessary to apply compression to the affected area to prevent reaccumulation of fluid. Compression Therapy increases the tissue pressure, which results in lower effective ultrafiltration and better reabsorption on the venous end of the blood capillaries. It also promotes the filling of initial lymph vessels, improves the function of the muscle pumps and helps to reduce fibrosclerotic tissue. In Phase I of therapy, compression is applied via short-stretch bandages. These short stretch bandages will be worn during the day and night. In Phase II, compression garments are worn during the day and it may be necessary to wear a specialized garment or bandages at night.
The compression class and type of garment depends on the severity of the swelling, the patient's age, and any other relevant factors.
Exercises
Remedial exercises aid the effects of joint and muscle pumps and should be performed by the patient wearing the compression bandage or the garment.
Patients are treated on an outpatient basis.  Medicare and most private insurance companies will cover costs of treatment.
WHO'S QUALIFIED TO TREAT LYMPHEDEMA?
In many parts of the world (including the U.S.) there are no mandated training standards for lymphedema therapists, so anyone with a physical therapy or occupational therapy license can set up shop as a lymphedema therapist with little or no SPECIFIC training in the pathology or treatment of LYMPHEDEMA.
Since this lack of standardized competency can seriously affect the outcome of your treatment, a licensing organization called the Lymphology Association of North America (LANA)  has stepped in and set up standards and a testing system to certify a minimal level of training, knowledge and experience.  These standards are endorsed by the National Lymphedema Network (NLN) as well.
Although the LANA standards are strictly voluntary at this time, you will want to be sure that any lymphedema therapist you see meets those standards.  Call before you go and ask about their training and LANA certification.
HOW DO YOU FIND A TRAINED THERAPIST?
There are several on-line resources to help you find a therapist in your area who has the recommended training.
. The LANA web site, www.clt-lana.org, lists therapists in the U.S. and Canada.
. The National Lymphedema Network, www.lymphnet.org, also has a therapist locator guide.
. The academy of Lymphatic Studies, www.acols.com, is another web site you will find qualified therapists.
Scottie Bull, PT, CLT-LANA – Owner
Certified Lymphedema Therapist
Scottie received her Bachelor's degree in Physical Therapy from the University of Central Florida. She has been an outpatient therapist since her graduation on 1997. She has over 20 years of experience in outpatient rehabilitation settings and in 2001 she began specializing in the treatment of Lymphedema. That same year, she implemented a Lymphedema support group which continues to meet monthly. In 2009, Scottie met her professional goal of achieving national certification as a lymphedema therapist from the lymphology Association of North America (LANA). Currently, she is the only LANA certified therapist in Lake County.
Physio Therapy
Phone: (352) 365-1114
Fax: (353) 365-0111
1127 East North Blvd.
Leesburg, FL 34748
Over 3,600 insurances are accepted,
as well as, self pay options.