By Dr. Dana Coberly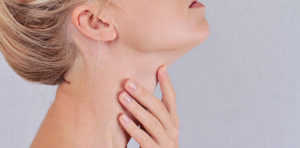 Many of us might be noticing a little more submental fullness in our faces –  That's the technical term for a double chin. Is it from our yo-yo-dieting and overindulgence, or is it the effects of aging, hormonal imbalance and gravity? No matter what the cause, if you're growing tired of the double chin that's formed, there is an FDA-approved treatment that's easy, efficient and highly effective at sculpting the chin area.
An injection lipolysis using KYBELLA® can reduce and diminish the fat pads under the chin. KYBELLA® is the only FDA-approved injectable treatment that destroys fat cells in the treatment area under the chin to improve your profile.
What is injection lipolysis?
Injection lipolysis uses the chemical deoxycholic acid to disrupt and kill fat cells in the treatment area. KYBELLA® has FDA approval for this purpose and is an effective alternative to surgery.
Your practitioner marks a grid pattern on the skin under your chin and numbs your skin with a local anesthetic.
They then inject the KYBELLA® into the grid to ensure even distribution. After the procedure, you may experience some*:
• Swelling
• Bruising
• Mild pain
• Redness
*You may also feel some hard spots under your skin, but these diminish quite quickly.
When will I see the results of my fat-reduction treatment?
After your injection lipolysis session, it takes 6-8 weeks for most patients to see a visible reduction in their double chin. Typically, patients need a second treatment 4-6 weeks after the first, and some patients need as many as six treatments in total.
At first, your double chin is likely to look worse because of the inflammation, but once this subsides and your body disposes of the dead fat cells, you'll see the final results. Unless you gain a significant amount of weight, the results of KYBELLA® treatment are permanent.
If you are interested in learning more about your options or the KYBELLA® procedure, Dr. Coberly and her office staff will be able to share before and after photos, patient testimonials, as well as schedule your consultation to determine the best treatment option for you.
Dr. Dana Coberly, Board Certified Plastic Surgeon
Dr. Coberly is committed to providing the most compassionate, innovative, and individualized care possible. Dr. Coberly completed her general surgery training at the University of South Florida. She devoted a year to research focusing on skin wound healing and laser resurfacing at the prestigious University of Texas Southwestern Medical Center in Dallas. Dr. Coberly continued her training in the UT Southwestern Plastic Surgery Program, considered one of the foremost cosmetic plastic surgical training programs in the country. She received extensive training and experience in laser therapy and skin rejuvenation and looks forward to combining her experience with innovative new therapies to optimize your results.
Dr. Coberly specializes in facial, body, and breast cosmetic procedures, as well as numerous med spa and aesthetic treatments. Some of her most requested procedures are as follows:
BODY
CONTOURING
Liposuction
Body Lift
Coolsculpting
Arm Lift
Tummy Tuck
BREAST
SURGERY
Breast Augmentation
Breast Lift
Breast Reconstruction
Breast Reduction
FACE
PROCEDURES
Face Lift
Nose Reshaping
Eyelid Surgery
Ear Reshaping
Brow Lift
WE HAVE A NEW OFFICE LOCATION:
Coberly Plastic Surgery & Med Spa
508 S. Habana Avenue, Ste 180
Tampa, FL 33609
(813) 448-6550
www.drcoberly.com
To find out more about KYBELLA® or other procedures that Dr. Coberly specializes in, please visit her website at drcoberly.com or call (813) 448-6550 to schedule your consultation today.