By Bo Martinsen, MD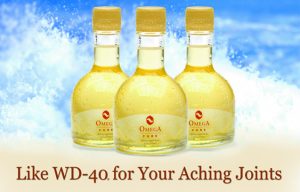 More than 76 million Americans live with pain every day. That's more than the number of people who have heart disease, diabetes, and cancers combined, according to a survey by the American Osteopathic Association.
But what's worse is that one-third of these people believe that medical treatment will not help, or feel that the treatment will create more undesirable side effects than the pain itself.
Unfortunately, many painkillers and medications designed to reduce inflammation can cause serious side effects, like gastrointestinal problems or addiction. But, there is a natural, anti-inflammation agent that can help treat pain – if we get the right dose.
Treating Pain with Omega-3 Fish Oil
Adding an adequate dose of omega-3 fish oil to the diet can help patients reduce their need for medication, or in some cases, eliminate their dependence on painkillers altogether. Research shows that fish oil acts on the same biochemical pathways as pain-
relieving medication. Furthermore, the cells can use the omega-3 to reduce inflammation without the body experiencing harmful side effects.
The pain-relieving benefits of omega-3 fish oil, however, are dependent on the dose consumed. To best understand the kind of doses needed to achieve results, let's look at a few studies with people having rheumatoid arthritis:
The Science Behind Omega-3 and Pain Relief
A well-designed double blind, placebo-controlled study published in 2008 investigated the effect of consuming 10 grams of cod liver oil (or roughly 10 fish oil capsules) every day. At this daily dose, 65 percent of the patients significantly reduced their use of NSAID (Non-Steroidal Anti-Inflammatory Drugs) by more than 30 percent. However, the authors noted that many participants withdrew early from the study because they did not like taking 10 capsules of fish oil every day and often experienced fishy burps and stomach problems.
In another trial, the researchers again gave 10 capsules of fish oil a day to patients and found the same benefits – an almost 60 percent reduction in NSAID intake. The researchers noted that the patients experienced the peak pain relief after one year of consuming a daily dose.
Finally, a university study from 2012 with more than 380 arthritis patients concluded that giving patients at least 2.7 g of EPA/DHA per day (or roughly nine capsules) for more than three months, reduced patients' need for NSAID drugs.
While there's good scientific evidence that omega-3 fish oil relieves joint pain, most people never experience it. In an Australian survey published in the Journal of Rheumatology in 2009, the authors noted that fish oil's chronic pain relieving effects have been known for some time. Sadly, very few people – including physicians – understand that the omega-3 dose required for getting results is far higher than one to two capsules a day. Most patients miss an opportunity to improve the quality of their daily life because they are taking an ineffective, small dose.
What's the Take Home Message?
Millions of people can improve their chronic pain conditions and inflammation by getting an adequate dose of omega-3 every day.
So what is the right dose? In the studies above, researchers used roughly 2.5 to 3 grams of EPA/DHA a day to achieve the pain-relieving results. In terms of capsules, that dose is equivalent to consuming 8-12 regular fish oil capsules a day, or one tablespoon of liquid fish oil. Because most people find it hard to swallow handfuls of capsules a day, switching from capsules to a liquid fish oil improves motivation and compliance.
At Omega3 Innovations, our customers frequently report that they have less pain after taking one tablespoon of Omega Cure® every day for at least three months. Those anecdotal testimonials match the time period and dose noted in the research studies above.
One customer, Holly Davis, said after six orthopedic surgeries and a daily Aleve regimen, she started taking Omega Cure regularly.
"Today, I still take Aleve, but it's averaging one dose monthly rather than daily," she says. "My liver is surely thanking me."
About
Dr. Bo Martinsen
Bo Martinsen, MD, is the co-founder and CEO of Omega3 Innovations. Born and raised in Norway, Dr. Martinsen received medical training at the University of Bordeaux in France and at the University of Oslo. Dr. Martinsen has extensive experience practicing psychiatry, general medicine, neurology and preventive medicine, in addition to training in epidemiology (Ph.D program at the University of Oslo) and business administration. He has served as medical consultant to large international corporations focusing on stress management and synergistic medicine.
References:
1. Hill C et al. "The Use of Fish Oil in the Community: Results of a Population-Based Study." Rheumatology (Oxford). 2009 Apr; 48(4):441-2. Epub 2009 Jan 27.
2. Lee YB et al. "Omega-3 Polyunsaturated Fatty Acids and the Treatment of Rheumatoid Arthritis." Archives of Medical Research. 2012 Jul; 43(5):356-62. Epub 2012 Jul 24.
3. Galarraga B et al. "Cod liver oil as an Non-Steroidal Anti-Inflammatory Drug Sparing Agent in Rheumatoid Arthritis." Rheumatology (Oxford). 2008 May; 47(5):665-9. Epub 2008 Mar 24.
4. Caughey GE et al. "Fish Oil Supplementation Increases the Cyclooxygenase Inhibitory Activity of Paracetamol in Rheumatoid Arthritis Patients." Complementary Therapies in Medicine. 2010 Jun-Aug;18(3-4):171-4.
5. Baker KR et al. "Association of Plasma N-6 and N-3 Polyunsaturated Fatty Acids with Synovitis in the Knee." Osteoarthritis and Cartilage. Osteoarthritis Research Society International. 2012 May; 20(5):382-7. doi: 10.1016/j.joca.2012.01.021. Epub 2012 Feb 4.