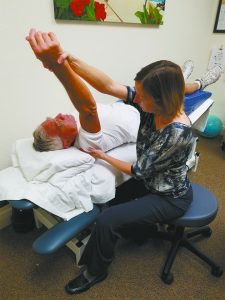 What Is Occupational Therapy
Occupational Therapy (OT) is a healthcare profession whose goal is to help you achieve optimum performance of your daily life tasks. After a comprehensive evaluation, an occupational therapist develops an individualized treatment plan aimed to remediate or restore function or compensate for deficits after an illness, injury or condition.
Common Conditions/Diseases Treated by Occupational Therapists
. Osteoarthritis/Rheumatoid Arthritis
. Stroke/Multiple Sclerosis/Parkinson's Disease
. Dupuytren's Contracture
. Carpal Tunnel Syndrome
. Carpometacarpal Joint Arthroplasty
. Tennis/Golfer's Elbow
. Hand/Wrist/Elbow/Shoulder Fractures
. Rotator Cuff Injuries
. Sports/Auto/Personal Injuries Affecting the Upper Extremity
OT Treatment at PhysioMed
Occupational therapy treatment may include manual techniques, modalities (ultrasound, electrical stimulation, paraffin treatment, splinting), therapeutic exercise, therapeutic activities and training related to self-care/activities of daily living (ADLs). More specifically, activities of daily living include eating, bathing, dressing, grooming and toileting. Treatment will focus on deficits identified in the evaluation such as decreased strength, decreased range of motion, decreased fine motor or gross motor coordination, pa in/nerve symptoms and decreased independence with ADL. At PhysioMed, treatment is provided on a one-to-one basis allowing the therapist to customize each treatment based on the client's performance. Additionally, the client is able to ask questions that help them understand their condition/exercises and ensure carry-over of performance to their home environment. If you, or a loved one is struggling with your daily tasks, Shealan Mullen, OT or myself, Nancy Schmeltzer, OT would welcome the opportunity to help you live your best life!
Wim Vergauwen, MPT, CMT – Owner
Certified Manual Therapist
Wim was born in Belgium and received his Master's degree in Physical Therapy in 1991 from the University of Leuven, Belgium. He also received his European Master's degree of Adapted Physical Activities in 1992 in Copenhagen, Denmark. Wim has more than 25 years experience in outpatient facilities. He is respected throughout his field for his competence and expertise in the treatment of spinal disorders. Wim has been an adjunct instructor for the Physical Therapy program at the University of Central Florida, and as a Certified Manual Therapist, he has also been an instructor of continuing education courses.
Scottie Bull, PT, CLT-LANA – Owner
Certified Lymphedema Therapist
Scottie received her Bachelor's degree in Physical Therapy from the University of Central Florida. She has been an outpatient therapist since her graduation on 1997. She has over 20 years of experience in outpatient rehabilitation settings and in 2001 she began specializing in the treatment of Lymphedema. That same year, she implemented a Lymphedema support group which continues to meet monthly. In 2009, Scottie met her professional goal of achieving national certification as a lymphedema therapist from the lymphology Association of North America (LANA). Currently, she is the only LANA certified therapist in Lake County.
PHYSIO Med
Phone: (352) 365-1114
Fax: (353) 365-0111
1127 East North Blvd.
Leesburg, FL 34748
Over 3,600 insurances are accepted, as well as, self pay options.