Coach Jimmy K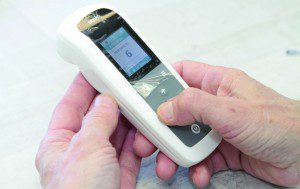 Tired of weekly doctor's visits and dealing with pain until your next appointment? Are you looking for a proven, natural, non-invasive and drug-free alternative to aid with your health conditions? Look no further, a new holistic medical device is available to you at the Denas Pain Relief Store. This device is designed to address pain, promote energy, and speed up healing using a natural pain-free approach. The DENAS PCM 6 is your alternative health choice.
DENAS PCM 6 is a superior advanced SCENAR device that is a compact portable solution that fits in your hand at home or on the go. When you use the device, it transmits bipolar electrical pulses, similar to a tingling sensation that is easily directed to different parts of your body. No special medical education is required for effective use of the device. Denas technology helps you overcome acute or chronic health issues and restore body's lost functions from conditions that started years ago. Dedication and determination will persevere through continued use of the device as it helps the body naturally repair itself and facilitates the restoration of homeostatic function Using this SCENAR technology, it can target different pain conditions and health issues with different adjustable frequencies.  The DENAS PCM 6 has many natural healing capabilities without the use of drugs.
Denas delivers when others fail.
Denas is very different from other electro therapy units such as TENS. The feature of TENS impulse is asymmetrical bi-phase square wave that stimulates A and B fibers and lacks a biofeedback capability. However, Denas devices have a fixed and constant distance between cathode and anode, the neuro-electrical impulse is high amplitude and mirrors the body's natural nerve signal so it stimulates C-fibers, which make up about 75% of all nerves in the body, which explains the rapid and effective results. The C- fibers react to the electro-neuro stimulation which produce neuropeptides, endorphins and regulatory peptides. These neuropeptides are the human body's natural pharmaceuticals that carry out all auto-regulatory and auto-therapeutic processes focused on the maintenance and restoration of homeostasis healthy balance of the body's cellular and organism health.
Solid Foundation with history
SCENAR technology was developed in the 1970s for the Russian cosmonauts use in space and Olympic team members instead of conventional medical or pharmaceutical methods. It provided Russia a secret weapon for fast muscle recovery from back injuries, muscle injuries, shoulder, knee and joint injuries sustained in intense competition of individual sports and team sports during the Olympics. When other athletes would be sidelined, Russia's athletes would quickly overcome injuries through its use. Kept Top Secret for almost 2 decades the technology was finally shared with the world after the collapse of the USSR in 1991 and is now enjoyed by millions worldwide.
40 years of clinically proven results
While the FDA has approved SCENAR for muscle reducation, biofeedback, and the treatment of pain. Russian physicians have long used SCENAR to treat virtually all organ systems: musculo-skeletal, nervous, digestive, pulmonary and cardiovascular. With over forty years of published research and proven results in hospitals and clinics throughout Russia, Europe, and the United Kingdom. Russian experience demonstrates SCENAR effectiveness in close to 90% of all patients treated, with full healing noted in two out of every three patients, and significant improvement and recovery in the rest. DENAS SCENAR is now available so you can enjoy the benefits of this affordable pain-free device that is Drug free, safe & effective.
Easy to use
You can easily manage this portable device since it is a lightweight and compact. The DENAS PCM 6 solution operates on two AA batteries, providing therapy when you need it. It also comes with a sturdy and compact carrying case that you can take with you when you travel.
There are twenty-four preset automated programs with the new DENAS PCM 6. This device offers picture illustrations for each application. Your new best friend also includes over one hundred manual frequencies for other health solutions. The MED (Minimum Effective Dose) mode, and a screening mode to locate internal issues.
• Allergies
• Pain
• Severe pain
• Bloating
• Neuro-circulatory dystonia
• Gynecologic pain
• Gynecological Hormonal Balance
• Hypertension
• Hypotonia (low muscle tone)
• Migraines
• Throat
• Diarrhea
• Gastro-intestinal pain
• Constipation
• Cough
• Muscle Soreness
• Cold
• Male Potency (E.D)
• Kidneys
• Back Pain
• Joint Pain & Immobility
• Nausea
• Trauma
• Asthma
You can use the following attachments on different parts of the body with the DENAS PCM 6:
• Goggles – Prevention and therapy of eye diseases
• Reflexo – for diabetic neuropathy and foot reflexology
• Electro Pads – Special silver lined pads for hands free therapy
• Neuro Garments – for Golfers Elbow, Rheumatoid
Arthritis, Knee & Joint therapy
Until now, you could only purchase the DENAS PCM 6 from Russia but as of May 2016, you can buy this new device at
www.denaspainreliefstore.com
  We are excited be the only USA based DENAS Dealer offering a solution for your health and wellness needs.
At Denas Pain Relief Store, we want you to experience the maximum benefits of your DENAS PCM 6 so we offer FREE lifetime training and support with live 24/7 access to help you or answer any questions. While located in Portland, Oregon we offer lightning fast same day shipping that will arrive in 2 to 3 days with a 30 day money back guarantee. The Denas Pain Relief store is a customer-focused alnernative health and wellness store, providing excellent support and helping you achieve your health goals. Give us a call today and ask to speak to coach Jimmy K so you can begin your journey to becoming pain-free while overcoming health issues and enjoy living life again!
——————————————————————-
You can find more information about the DENAS PCM 6 call Coach Jimmy K direct at 503-395-4142 and ask about the Special Lee County, FL Bonus with your order ($100.00 Value).
Saving you thousands of dollars and the headache of scheduling appointments and shuffling your schedule this will absolutely be the best money that you will ever spend, Guaranteed!
DENAS PAIN RELIEF STORE
503-395-4142
Visit our webstore at
www.denaspainreliefstore.com
USA Headquarters for DENAS Sales, Support & Training
865 NE Tomahawk Island Drive #222
Portland, Oregon 97217