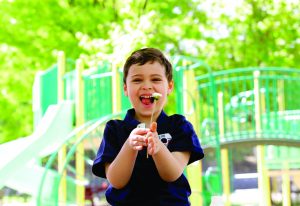 Autism is a complex, behaviorally defined disorder of the immature brain. Autism is not a disease but a syndrome with multiple non-genetic and genetic causes. Autistic Spectrum Disorders (ASD) is a broad spectrum of developmental disorders characterized by impairments in 3 behavioral domains:
1) Social interaction
2) Language, communication, and imaginative play
3) Range of interests and activities
There are two basic types of autism: autism from birth and regressive autism, which generally occurs between 12 and 24 months of age after a period of normal development and behavior. The incidence of autism from birth is low, approximately one or two out of 10,000 births. However, the incidence of regressive autism and associated ASDs has soared. A recent study indicates that as many as 1 out of 150 children may have regressive ASD. A similar figure was reported by the Center for Disease Control (CDC) in a study of a township on the East Coast of the United States. ASD is of great concern to all healthcare practitioners because of an astonishing 556% reported increase in pediatric prevalence between 1991 and 1997. The clinical management of ASD requires a multidisciplinary approach, consisting primarily of speech, language, behavioral, and educational interventions.
Engaging in the proper therapies is critical. Nutritional therapies such as vitamin B12, probiotics, eliminating sugar from the diet, physical and behavioral therapy, chiropractic adjustments, and speech therapy have shown significant improvements in many categories for children with autism.
In the last two decades, alternative autism therapies have gained popularity by many parents around the world. At the forefront of these therapies, chiropractic care is leading the charge. Thousands of case studies and research publications support high levels of success in helping improve children from many of the symptoms found on the Autism Spectrum. Some of the significant improvements are found in sociability, sensory and cognitive awareness, and speech, language, and communication ability. Other improvements were found in health and physical behavior.
Most results are seen within six weeks under chiropractic care. Pediatric doctors of chiropractic assess children with ASD using some or all of the following diagnostic tests including thermography, static EMG, heart rate variability, (sometimes) X-Rays, physical exam, neurological exam, and/or balance testing. From here neurological interference areas are diagnosed and adjusted with gentle pediatric techniques. Re-testing happens every 3-4 weeks to track progress, and parents usually start reporting improvements as care continues.
If you haven't tried chiropractic for your child with ASD, speech delays, motor delays, or any neurological concern you may have it may be time to explore this option. The doctors at Full Life Chiropractic in Pasco County are trained in pediatrics and neurology, and have over 20+ years of combined experience helping kids of all ages; especially with neurodevelopmental disorders.
Choosing the right doctor is key in any therapy you select for your child. Doctors with training in both pediatrics and neurodevelopment, along with experience will provide families with the highest success rates in dealing with neurodevelopmental disorders. Dr. Christine Hafer and Dr. Enrico Dolcecore both have the passion and expertise to help guide families in the right direction in restoring health and function.
To learn more about how chiropractic care can help please call 813-607-0474 to schedule your appointment.
Please Join Dr. Dolcecore for an informative Seminar/Workshop
Unraveling Neurodevelopmental Disorders
May 16, 2018
RSVP at www.FullLifeTampa.com/events to register, or call 813-607-0474.