InterCommunity Cancer Centers and Institute Encourages Women to
Remain Vigilant and Seek Specialist if Experiencing Symptoms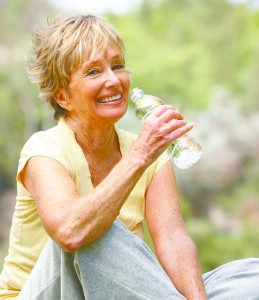 A new study recently discussed at the American Urological Association annual meeting highlights a potentially frightening finding about bladder cancer that experts at InterCommunity Cancer Centers (ICCC) and Institute (ICCI) of Leesburg, Clermont and Lady Lake want all women to be aware of. As far as this disease's most recognizable symptoms, noticing blood in the urine is frequently a first indicator of the disease for both men and women. But for women specifically, the new research has indicated that women with blood in their urine are only half as likely as men to be referred beyond their primary care provider to a urologist for further investigation.
These new findings are concerning because women with bladder cancer are historically known to be diagnosed at a later stage and as a result, die more often from the disease than men do. So why is there a gap between bladder cancer evaluation for men and women? According to the study's researchers, who conducted a medical chart review of nearly 10,000 patients, the diagnostic result of blood in the urine for women is often assumed by the primary care provider to simply be a urinary tract infection (UTI).
While UTIs are more frequently suffered by women, the research found that some of the diagnostic gap may also be attributed to primary care providers' understanding that women are statistically less likely to be diagnosed with bladder cancer than men. But the general dismissal of symptoms as something "not serious" is dangerous and one that unnecessarily prevents or delays doctors from catching bladder cancer earlier in women. Doing so not only increases health care treatment costs, more importantly, it increases a woman's chance of dying from the disease.
So what should you do if you or someone you know has blood in her urine? Be your own health care advocate and talk to your doctor about your symptoms. While proponents of this recent research are hopeful in helping primary care physicians better assess bladder cancer risk in women who present with such symptoms, you'll still need to be the one to fight for your health.
The ACS' website identifies numerous signs and symptoms regarding bladder cancer including the following:
WHAT ARE THE SIGNS AND SYMPTOMS OF BLADDER CANCER?
Bladder cancer can be found early, and both doctors and patients play important roles in finding this disease. If you have any of the following symptoms, tell your doctor.
Blood in the Urine
In most cases, blood in the urine is the first warning sign of bladder cancer. Depending on the amount of blood, the urine may be orange, pink, or, less often, darker red. Sometimes, the color of the urine is normal but small amounts of blood are found when a urine test (urinalysis) is done because of other symptoms or as part of a general medical checkup. Keep in mind that blood may be present one day and absent the next, with the urine remaining clear for weeks or even months. If a person has bladder cancer, the blood eventually reappears.
However, blood in the urine or changes in bladder habits does not always confirm a bladder cancer diagnosis. It is often caused by other things like an infection, benign (non-cancerous) tumors, stones in the kidney or bladder, or other benign kidney diseases.
Changes in bladder habits or symptoms of irritation
Bladder cancer can sometimes cause changes in urination, such as:
• Having to urinate more often than usual
• Pain or burning during urination
• Feeling as if you need to go right away, even
when the bladder is not full
Symptoms of advanced bladder cancer
Bladder cancers that have grown large enough or have spread to other parts of the body can sometimes cause other symptoms, such as:
• Being unable to urinate
• Lower back pain on one side
• Loss of appetite and weight loss
• Swelling in the feet
• Bone pain
"If you believe a UTI diagnosis is incorrect or just "feel" that something more should be done, speak up. Ask your doctor for a referral to a urologist for further evaluation. If you're wrong, you'll have peace of mind. But if you're right, it could save your life," says Alison Calkins, M.D., radiation oncologist at ICCC/ICCI.
Sources:
http://news.vanderbilt.edu/2014/05/urologic-cancer-studies-point-
to-need-for-referral-education/
http://www.cancer.org/cancer/bladdercancer/detailedguide/bladder-cancer-signs-and-symptoms
THE EXPERIENCE OF
INTERCOMMUNITY CANCER CENTERS
ICCC has 25 years of cancer-fighting experience having treated over 10,000 patients. They are dedicated to empowering patients to have the confidence they need to change their lives. Radiation Oncologists Drs. Hal Jacobson, Herman Flink, Maureen Holasek and Alison Calkins bring exceptional expertise in treating breast, lung, prostate, gynecologic, skin and other cancers.
As part of a larger, nation-wide oncology group of physicians and specialists under Vantage Oncology, the oncologists at ICCC have access to aggregated clinical information and best practices from the treatment of more than 1,000 patients per day, enabling them to develop highly-effective and peer-collaborated treatments. This gives many of the centers that work with Vantage, including ICCC, the ability to offer university-quality treatment services in smaller and more rural areas. It gives local communities exceptional services closer to home and in a non-hospital setting. To learn more, please visit www.ICCCVantage.com.
ABOUT VANTAGE ONCOLOGY
Vantage Oncology offers a complete development, implementation and management solution for radiation oncology practices. It provides ownership opportunities that empower physicians to maintain control of their practice while leveraging the strength of the company's network and clinical resources. A multi-disciplinary team is committed to continuously raising the standards of cancer care. Vantage provides patients and their families with ultimate peace of mind through its commitment to clinical excellence and superior outcomes.
For more information, please visit www.VantageOncology.com.