One Day Bath's TubcuT® adds convenience and protection for all ages
By Shannon Sigafoos of The Morning Call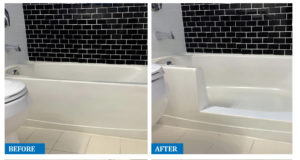 When was the last time you faced the need for a home project that you knew would absolutely solve your problem and also go easy on your wallet?
For most homeowners, there's usually an endless list of modifications and renovations that we need to make as both we and our homes age. And if you're like most people, you put off projects that have more to do with your own safety or comfort.
But chances are, you or someone you know has had to deal with everyday aches and pains, arthritis, bad knees, foot or ankle problems, a handicap or overall mobility problems, aging in place, acting as a caregiver, or general worries about slip and falls in the bathtub.
You've probably already heard that there are ways to make your bathtub more accessible, but pushed the thought to the back of your mind because you're worried about how long your bathroom is going to be out of commission, the cost of the project, and even if having your bathtub modified is actually going to serve its intended purpose.
Welcome to the novel idea of the TubcuT®.
If a person has difficulty lifting his or her legs over a traditional tub wall, then a portion of that tub wall can actually be cut and removed, then refinished. The cutout reduces the lift required to step or swing one's legs into the tub, and instead turns it into a walk-in shower. The modification can be done in less than one day. Even better? The cut portion of the tub can be saved, and the project can be reversed if you want to sell your home and not lose value.
"We can do this without disturbing the plumbing or making a big deal of construction. We're in and out of there in half a day, and then the customer is using their shower and their bathroom again by the next morning," says Paul Echavarria, owner of One Day Bath for the past two decades. "We also have no problem with doing a complete reversal for this project, and once that's complete, you would never know what that tub looked like before. It's seamless and waterproof. The whole entire tub gets resurfaced so that when we're done, the tub looks brand new again."
Since the original TubcuT® was first offered on the market, there have been a number of national companies offering what looks like an identical product and service. One Day Bath, however, points out that with TubcuT®, the user chooses how wide the opening is and where it starts and ends. This allows the panels to structurally become part of the tub through a strong bonding process. The panels are also made of a durable material that is easy to clean, and your tub's color can be matched perfectly to the panel's edge for a seamless look and watertight construction. Competitors use plastic caps or one-piece inserts, and their products are typically attached to the tub with caulk only and don't have any of the versatility of the TubcuT®.
One Day Bath has a full showroom available (at 889 Lower South Main St. in Bangor) for customers to walk in and see the options for themselves.
"The showroom is open five days a week and by appointment only on Saturdays. We can show you examples of the traditional method of a tub to shower conversion, and show two different methods of getting a TubcuT® done – one with a shower door, and one without," says Echavarria. "We also have some of the accessories that we offer that people want to utilize, such as wall liners. The showroom is very well displayed for exactly what customers want to see."
If you plan to go out and visit the showroom (or if you speak to a One Day Bath representative by phone), the price quote for the project is based on the width of the opening, so it's good to have the measurements of your existing tub available. There is also no required down payment prior to the TubcuT® install.
Another option? A "tub surround" tub-to-shower conversion
On the flip side, there are those who have the need or want to convert an existing tub in their home into a full shower with new fixtures and wall panels. The floor of your shower (also known as the shower pan) has a lot to say about the style and cost of your tub-to-shower remodel. Typically, your shower floor will be one with a "curb" that corrals water and you step over that slight curb as you enter and exit the shower. There is also an option for a barrier-free shower or a roll-in shower for some who may be restricted to a wheelchair, as the four-inch lip of a shower pan can be difficult for some.
One Day Bath can also handle a tub to shower conversion without the hassle and mess of a full shower installation. This is possible with a specially designed acrylic shower system, which will give your new shower a modern update that you can also customize with specific tiling, color and accessories.
"Customers have the option of adding fold-down seats to their shower. They can also add linear shelves, and a grab bar," says Echavarria. "These custom-fit acrylic liners can have a tile or granite look. It comes in a variety of colors. They're all mildew and stain resistant, so the care and maintenance of these walls is simplified. There's no grout to clean. There's no caulk lines to scrub."
Just like the process of converting to a walk-in shower, the process of going from a tub to a shower is one that can be handled in a day or two and without the hassle of conventional remodeling. Your bathroom isn't put out of commission for days. Instead, a custom fitted acrylic shower pan is installed in the same footprint of your existing tub, minimizing construction. Then, in some cases a new wall liner is put over your wall tile. They are also sealed with Lux-Bond®, an adhesive system that is guaranteed not to dent, crack, or chip under normal use.
"As far as practicality is concerned, whether a client is asking for a walk-in shower or a tub-to-shower conversion, they're looking to solve a problem," Echavarria points out. "We can solve their problems for them, and we can do it with a lifetime guarantee and with saving homeowners up to 80 percent of the cost – making it practical for any budget."
Contact One Day Bath today
One Day Bath serves Allentown, Bangor, Bethlehem, Nazareth, Stroudsburg, and areas surrounding the greater Lehigh Valley – including Philadelphia, the Poconos, and New Jersey. To get a free in-home estimate, call 877-656-7875 or visit www.renewyourbath.com.
The Tub Cut Company
877-882-2887
paul@odbpro.com
www.thetubcutout.com