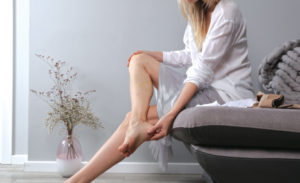 Podiatrists focus on the feet and everything associated with the foot and ankle, such as the tendons, muscles, ligaments, and bones. Podiatric specialists regularly treat anything that makes up the structure, function, and health of the entire foot. In the state of Florida, a podiatrist is not only able to medically treat the foot, but they also treat the entire lower extremity of the body from the knees down. Because the leg and knee are in such close relation to the effects of the foot and ankle, podiatrists regularly treat bone disorders from the knee down and soft tissue disorders. Many skin conditions can affect the legs and feet and podiatrists are able to treat those conditions with advanced methods, medications and technological advancements.
Common skin conditions on the legs and feet:
Athletes foot ( burning and itching fungal, skin irritation)
Warts (Contagious, can spread, common on feet and knees)
Venous stasis (circulatory condition that causes skin to thicken and become dark)
Dermatitis (usually caused by environmental irritants)
Diabetic wounds (neuropathy damages nerves and causes non-healing ulcers to form)
Shingles (rash caused by zoster virus)
Skin Cancer and Sun Damage
Typically, these conditions can be treated in-office and usually improve quickly with medical-grade topicals, oral prescriptions, or non-invasive procedures.
Skin Cancer Risks
Skin cancer can develop anywhere on the body, including in the lower extremities. Skin cancers of the feet have several features in common. Most are painless, and often there is a history of recurrent cracking, bleeding, or ulceration. Frequently, individuals discover their skin cancer after unrelated ailments near the affected site. 1
We often view the sun's harmful rays as the primary cause of skin cancer; the condition is often found on parts of the body that receive the most sun exposure. Skin cancers of the feet, however, are more often related to viruses, exposure to chemicals, chronic inflammation or irritation, or inherited traits. Unfortunately, the skin of the feet is often overlooked during routine medical examinations, and for this reason, it important that the feet are checked regularly for abnormalities that might indicate evolving skin cancer. 1
What many people are unaware of, is that skin cancer on the lower extremities looks different than that on the body. Podiatrists are trained to look for and diagnose abnormalities like skin cancer.
Dr. Gabriel Delgado prides himself on taking excellent care of his patients and making them feel at home. He is bilingual and a native and current resident of Lakeland, FL with his wife and 2 kids. He is a graduate from the University of Florida with a Medical Degree from Barry University followed by residencies at the Veterans Hospital of West Palm Beach, FL and St. Luke Medical Center in Phoenix, AR. He is Board Certified in Podiatric Medicine and Surgery and has received Certificates of Appreciation from the West Palm Beach VA Medical Center for his dedicated service to the veteran population.
You're not just another patient in his office, he takes the time to listen. Earning your trust, respect and exceeding expectations by providing a compassionate and professional environment. With over 20 years of being in practice, Dr. Gabriel Delgado always strives to provide the best healthcare for his patients.
Mid Florida Foot, Ankle & Vein Clinic provides pain-reducing, comprehensive cutting-edge treatment. Their podiatrist, Dr. Gabriel Delgado, can treat all foot problems and even performs in-office surgeries. Rest assured you'll get patient-focused care from their highly skilled and compassionate staff.
To find out more, or to schedule your appointment, please contact Mid Florida Foot, Ankle & Vein Clinic today.
Mid Florida Foot, Ankle & Vein Clinic
Dr. Gabriel F Delgado
FACFAS
Lakeland Office
203 Kerneywood St.
Lakeland, FL 33803
Bartow Office
510 West Main St.
Bartow, FL 33830
863-686-1641
midflfootanklevein.com