By Kristi Foret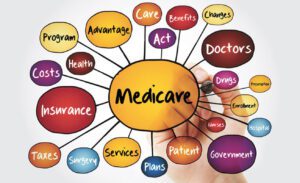 Picking health plan coverage is important, but navigating your options is not easy. Plan choices vary by county; chronicmedical conditions and your financial status affect your options; and spouses can enroll in different health plans. Medicare benefit plans change January 1. Here are some tips to help you get the most from your Medicare health plan:
• Get free transportation to the grocery store. If your health plan offers transportation services, the benefit typically only covers trips to and from the doctor or pharmacy. By transferring your prescriptions to a grocery store you can use your transportation benefits to pick up some necessities.
• Never pay for bandages again. Over-the-counter (OTC) products are covered by many health plans. Each month you are given an allowance to order products such as bandages, cough syrups, and blood pressure monitors at no cost to you. It's a "use it or lose it" benefit so don't forget to order monthly!
• Get a monthly rebate. Enrollment in a health plan requires you to have both Part A and pay your monthly Part B premium. How does a $60 to $130 a month rebate sound? We can help you find options that will reduce your monthly payments.
• Exercise for free. Fitness centers usually host classes specifically designed for seniors. Health plans may offer access to fitness centers and classes to encourage its members to be active and social. If you haven't been to Zumba or yoga class, grab your sneakers and try it. All skill levels are welcomed and you'll find yourself feeling better as you meet new friends.
• Cut your prescription costs by a third. To encourage the use of mail order services, many health plans offer a three month supply for two month's copay. Signing up is simple and we can help you with applying for assistance with your prescription drug costs.
• Lower copayments. Specialist copayments are generally higher to encourage patients to first seek medical attention from their primary care provider. To save money on copayments, consider a health plan with lower specialist copayments, go to a medical center offering an in-house specialist, or select an internist with a sub-specialty as your primary care physician.
• Veterans have options. Veterans are not limited to healthcare coverage through the VA. Medicare plans can offer additional services such as vision and dental.
• Not all plans are advertised. But we can schedule an appointment where I can show you all of the plans, even those not advertised. Enrolling over the phone or internet is an option but you will not have a personal agent you can call on for help. When I help you, I become your agent and can assist you every year and help you change plans if your needs change.
• Give your health plan an annual checkup. It is important to review your benefits each year between October 1 and December 7. Unless there is a special exception, this is the time you can enroll, disenroll or change your plan. If you are turning 65 years old you can enroll three months before your birthday. Let me help you avoid Medicare penalties or obtain Medicaid assistance if you qualify. Now is the perfect time to review your current options. You may decide to save time and gas by skipping all the seminars this year and go with the more personal approach in finding the perfect plan. At your request, I'd be happy to schedule a FREE in-home personalized appointment to review multiple plans, to ensure you're educated about the many options. I look forward to your call.
Medicare Plans Florida
Call Today for Your FREE Consultation
352-389-9700
Due to COVID, I can also offer your
Free Consultation by phone, video or email.