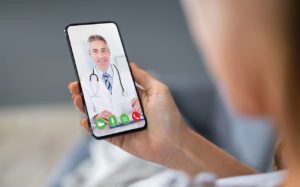 COVID-19 has disrupted our lives in many ways, but despite the adversity of this pandemic, telemedicine is taking off, and it's becoming the common way for us all to connect and receive medical care. Florida ENT & Allergy is ahead of the curve, as they've already implemented a comprehensive, virtual office visit application. They are here for you and all of your ear, nose and throat needs. They offer same day/next day appointments to meet all your needs; in hopes to keep their patients out of the emergency rooms and urgent care centers for ear, nose, and throat related issues. Allergy season is in full force, there is no need to wait for care. Sometimes it's difficult to decipher whether it's a cold or allergies, that's where Florida ENT & Allergy's proficiency prevails in these uncertain times.
If you have sinus symptoms, you may be thinking the worst and assume that you have the coronavirus—That's where Florida ENT & Allergy utilizes their expertise to help you stay calm and to give you a thorough examination via telemedicine. They will ask you about your symptoms and walk you through the next steps. This will help to keep patients out of the emergency rooms or urgent care facilities if they do not have to be there.
Florida ENT & Allergy recommends telemedicine to patients who are high risk or who prefer to see their physician from the comfort and safety of their own home/office. In-office visits are available also. Telemedicine allows the physicians to triage you on an individual basis to assess whether an in office appointment is necessary. In the case of an office visit, they are only taking a limited number of patients per day to protect their staff and patient population from cross contamination. They have also elevated their disinfection protocols and are wearing masks and gloves at all times. They also ask that patients wear face coverings when entering the office and that you let them know beforehand if you are experiencing any COVID-19 symptoms like a fever or cough before your appointment. If you are sick, you will be referred to your primary care provider or the hospital depending on the severity of your symptoms.
Florida ENT and Allergy is open weekdays and conveniently located for most of the Tampa Bay area with 13 locations, as well as telemedicine. The board certified physicians and dedicated staff are here to meet your ear, nose, and throat needs.
Florida ENT and Allergy Telemedicine
Take Advantage of Their Virtual Appointments
Here's How It Works:
• To schedule, call (813) 879-8045 and ask for a virtual telemedicine appointment.
• You will receive an email confirming your appointment time and date.
• The email will have a link to the video call
If you have any questions, please reach out to Florida ENT & Allergy at (813) 879-8045, and they will be happy to assist you.
• On the day and time of your appointment, you simply click the video link from your email you received confirming your appointment. Your physician will be there waiting for you.
• You can do this from your computer, tablet or any smartphone
• You will then be live with your physician and able to describe your symptoms and ask questions.
It's not difficult, but if you require any assistance, Florida ENT & Allergy's staff is available to walk you through the steps. During this time of social distancing and all of the confusion that has been thrust upon us, Florida ENT & Allergy is here for their patients to help reduce some of that inevitable anxiety and to take care of your needs.
About Florida ENT & Allergy
The physicians of Florida E.N.T. & Allergy have served the Tampa Bay community for over 40 years. Their board-certified physicians and doctors of audiology have completed extensive education and clinical training as well as specialized training in their area(s) of expertise. From pediatric allergies to fitting hearing aids, their caring and experienced providers specialize in ear, nose and throat care for the entire family using comprehensive, cutting edge technologies.
To request an appointment or ask a question, they invite you to call any of their thirteen offices using one convenient number, 813-879-8045.
Florida E.N.T. & Allergy
(813) 879-8045
www.floridaentandallergy.com