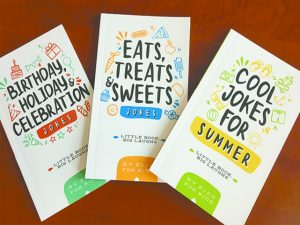 While the official holiday season may be over, there is still no better gift than the one that gives back and the UnitedHealthcare Foundation helps families in need all year long through the sale of inspirational children's books, toys, and kid-designed holiday cards, which help fund child medical grants for families who need financial assistance.   Since 2007, UnitedHealthcare Children's Foundation has awarded more than 15,000 grants valued at more than $39 million, giving the gift of hope to families nationwide.
Available for purchase on Amazon.com (search for UHCCF), with 100 percent of the proceeds going to fund medical grants for children in Florida and across the U.S., smile-inducing and educational toys and books include:
• Award-winning Oliver & Hope children's storybooks'
• Soft and snuggly stuffed animals that soothe and comfort any child's heart
• Children's joke books – written by kids for kids, these funny jokes bring smiles to kids – and adults – of all ages
• Digit'y Do — a new numbers game that combines elements of strategy and probability with a high dose of fun
• Kid — designed holiday cards and 2017 wall calendars
• Grins to Go bags — this nylon drawstring backpack is filled to the brim with a dozen toys, games and activities that will inspire and amuse any boy or girl between the ages of four to 12.
Joke book series
Kids across Florida and the United States helped produce the joke book series that have brought laughter and enjoyment to both kids and adults since 2014, when the first joke book was released.  Designed to appeal to all ages and bring laughter and enjoyment to kids and adults, the three books – Cool Jokes for Summer; Sweets, Treats & Eats; and Holidays, Celebrations & Birthday Jokes – each include more than 300 hilarious jokes.  Many of these will bring back fond childhood memories with the added benefit of helping fund more children's medical grants.
Know of a child or family in need?  
How to apply for a medical grant
The UnitedHealthcare Children's Foundation medical grants help families cover medical expenses and treatments not covered or fully covered by their health insurance plan (any health plan). There is no cost to apply.  For more information and to apply for a grant, visit www.uhccf.org.
About UnitedHealthcare Children's Foundation
The UnitedHealthcare Children's Foundation (UHCCF) is a 501(c)(3) charitable organization that provides medical grants to help children gain access to health-related services not covered, or not fully covered, by their parents' commercial health insurance plan. Families can receive up to $5,000 annually per child ($10,000 lifetime maximum per child), and do not need to have insurance through UnitedHealthcare to be eligible. UHCCF was founded in 1999. Since 2007, UHCCF has awarded more than 15,000 grants valued at over $39 million to children and their families across the United States. UHCCF's funding is provided by contributions from individuals, corporations and UnitedHealth Group (NYSE: UNH) employees. To apply for a grant, donate or learn more, please visit www.uhccf.org.