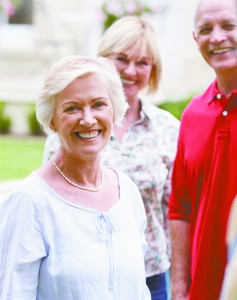 In honoring the indomitable spirit and courage of local cancer survivors, InterCommunity Cancer Centers (ICCC) of Leesburg and Lady Lake hosted its Fourth Annual Cancer Survivors' Reunion on Friday, November 14th. The free event took place at the American Legion Post in Lady Lake. ICCC is part of Vantage Oncology which includes more than 60 cancer treatment centers in 14 states providing quality, personalized care in a community setting.
A total of 234 attendees enjoyed music, food, light refreshments and the opportunity to share their stories with fellow survivors.
The American Association for Cancer Research's second Annual Report on Cancer Survivorship in the United States shows that as of January 2012, there were approximately 13.7 million cancer survivors in the United States, a number that is expected to rise by 31 percent to 18 million by 2022.
Nearly 14 million Americans are now living with and beyond a diagnosis of cancer. In the United States, men have a slightly less than 1 in 2 lifetime risk of developing cancer; for women, the risk is a little more than 1 in 3. Learning about this disease is crucial, because many forms of cancer can be prevented and most cured if detected early.
"As cancer specialists, we continue to work diligently to find new radiation and drug therapies to improve survival rates. However, we must not forget the emotional impact cancer has on patients and their families. By hosting events such as these, we are providing a nurturing environment that enables survivors to share their experiences and hopefully lend support to those patients recently diagnosed," said Alison Calkins, M.D., radiation oncologist at ICCC.
Major advances in cancer prevention, early detection, and treatment have resulted in longer survival, and therefore, a growing number of cancer survivors. However, a cancer diagnosis can leave a host of problems in its wake. Physical, financial, and emotional hardships often persist after diagnosis and treatment. Survivors may face many challenges, such as limited access to cancer specialists and promising new treatments, inadequate or no insurance, financial hardships, difficulty finding employment, psychosocial struggles, and a lack of understanding from family and friends. In light of these difficulties, our community needs to focus on improving the quality of life for cancer survivors.
"This event was an incredible experience and it felt like we received an early holiday gift by seeing so many of our patients happy and healthy," added Dr. Calkins. "We are inspired both personally and professionally by our amazing patients who simply refuse to back down from cancer. Their incredible courage is why we dedicate our lives to saving theirs."
THE EXPERIENCE OF INTERCOMMUNITY CANCER CENTERS
ICCC has 25 years of cancer-fighting experience having treated over 10,000 patients. They are dedicated to empowering patients to have the confidence they need to change their lives. Radiation Oncologists Drs. Hal Jacobson, Herman Flink, Maureen Holasek and Alison Calkins bring exceptional expertise in treating breast, lung, prostate, gynecologic, skin and other cancers.
As part of a larger, nation-wide oncology group of physicians and specialists under Vantage Oncology, the oncologists at ICCC have access to aggregated  clinical information and best practices from the treatment of more than 1,000 patients per day, enabling them to develop highly-effective and peer-collaborated treatments. This gives many of the centers that work with Vantage, including ICCC, the ability to offer university-quality treatment services in smaller and more rural areas. It gives local communities exceptional services closer to home and in a non-hospital setting. To learn more, please visit www.ICCCVantage.com.
ABOUT VANTAGE ONCOLOGY
Vantage Oncology offers a complete development, implementation and management solution for radiation oncology practices. It provides ownership opportunities that empower physicians to maintain control of their practice while leveraging the strength of the company's network and clinical resources. A multi-disciplinary team is committed to continuously raising the standards of cancer care. Vantage provides patients and their families with ultimate peace of mind through its commitment to clinical excellence and superior outcomes. For more information, please visit www.VantageOncology.com.