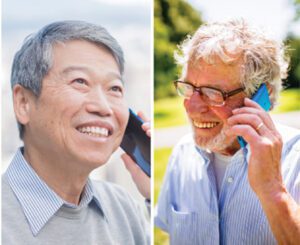 Long before COVID-19 we faced a health crisis. Few people talked about it, but it was right here – the loneliness epidemic. Now, the growing number of lonely, isolated seniors has become a crisis that we cannot ignore. Loneliness has physical consequences that can be devastating, especially for seniors. It eclipses obesity and even smoking for premature decline and even death. Mandatory social distancing means that so many more are feeling isolated, lonely, and scared.
While loneliness jeopardizes physical and mental health, connection is the cure. Research shows that friendships drastically reduce the mortality risks associated with isolation and loneliness. Reaching out might be difficult these days, but Seniors in Service can help with TelePals! TelePals offer regularly scheduled friendly calls that help reduce isolation so seniors can remain living independently, with dignity. TelePals get background checks and expert training. Participants are carefully matched based on interests, culture and skills, building enduring relationships that help them both. The heartwarming stories tell it best.
Angelina is 83-years-old and lives alone, with no support from family or friends. Her fixed income does not allow her access to technology, internet or even cable TV. For months now, the fear of COVID-19 has made her feel imprisoned in her own home. Imagine being elderly, alone and scared – cut off from the world during these unprecedented times. There's nobody to check up on her to make sure she's eating. There's nobody to share her memories with. There's nobody to tell her there's someone who cares. The pastor at her church hears about TelePals and encourages his parishioners to enroll. Most are too proud to admit that they're struggling. But Angelina and Christine, who is also a senior, both volunteer to help. Soon they are chatting by phone regularly. Although they've never met, they discover they have a lot in common. It turns out that they both are retired teachers and both love reading the exact same books. When Christine learns about Angelina's diabetes, she starts asking about her diet and how often she's getting up to walk around her house. Angelina says having a new friend has changed her life. "She really cares…You got a treasure with her and now she is mine."
For Jim, TelePals offers a lifeline. As a veteran, he's conditioned to never ask for help. Doctor visits are one place he finds connection. In the waiting room, he sees a flyer stating: "You've Got a Friend!" An invitation to call Seniors in Service. Inexplicably, he makes the call: "I am 70 and I have nobody." TelePals offers socialization and wellness-checks through telephone reassurance. For some, it's the only conversation they have all day. Enrollment is easy by phone or www.TelePalNow.org. Kevin, a retired businessman, enrolls to volunteer. As a veteran, he shares a special bond with others who've served our country. Kevin shares, "We share experiences from our past and daily lives…We get serious but also laugh a lot…It's the highlight of my day."
Intergenerational TelePals Chelsea and Rebecca initially wondered what they would talk about. A USF psychology student, Chelsea learned how isolation affects mental health. Now, with COVID-19, she's lonely herself. Discovering TelePals on USF's website, she volunteers. She's nervous at first but hearing about Rebecca's adventures when she was young is fun! Chelsea ensures Rebecca is social distancing and has everything she needs. She's poised to alert TelePals staff of any concerns. Their chats help them both, navigating this new reality, together.
The loneliness epidemic is killing our seniors. You have the power to make it better. Reach out and connect! Got an hour? Give an hour! Seniors in Service offers opportunities for TelePals to participate safely and remotely. Know someone who could benefit? Learn more by visiting www.seniorsinservice.org. Or follow us on www.facebook.com/seniorsinservice.
About Seniors in Service of Tampa Bay:
Seniors in Service provides solutions to community challenges by engaging volunteers aged 55+. Founded in 1984 as a non-profit 501(c)3, we help at-risk seniors, children, veterans and food-insecure individuals. Our volunteers also benefit from staying active and purposeful. We serve 5000+ individuals annually in Hillsborough, Pinellas and Pasco, engaging 500+ volunteers in collaboration with 150+ community partners. Independent audits show over 93% of each dollar goes to program services. For us, it's not just a tagline. We are GEARED UP TO SERVE!