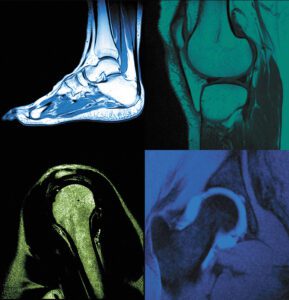 The musculoskeletal system (MSK) encompasses a wide range of components, including bones, joints, cartilage, muscles, tendons, ligaments, spinal disks and nerves. Any number of things can affect these areas, including damage, injury, arthritis, infection, tumors, herniation and concussions.
For rapid and accurate diagnosis, RAO utilizes magnetic resonance imaging (MRI), which delivers high-resolution images of bodily structures for clinical evaluation by your RAO radiologist and referring clinician. Radiation-free MRI can delve deep into tissues using a powerful magnetic field and radio waves to image soft tissues, knees, shoulders, hips, elbows, hands/wrists, feet/ankles and the spinal column to discover the source of pain, injury and dysfunction. Sometimes used with contrast dye for more intricate assay, MSK MRI produces remarkably detailed pictures of the area being studied, enabling your care team to quickly determine the problem and devise the most effective treatment. MRI provides high-quality imaging in real time, so your radiologist can assess the area of interest directly to identify arthritis, infection, tendinitis, ligament tears, specific impingement syndromes, and other problems.
RAO offers the revolutionary high-field MRI for the best level of detail in only about half the time required by standard MRI. High-field MRI is faster, more detailed and more comfortable than the MRI of days past, for a superior experience for both patients and clinicians. And RAO features Board-certified radiologists who subspecialize in MSK analysis for the ultimate level of accuracy.
For fast, reliable imaging across the musculoskeletal system, ask your clinician about MSK MRI. Or call RAO for more information. We're here to help.
Radiology Associates of Ocala
(352) 671-4300
www.RAOcala.com