Submitted by Hospice of Marion County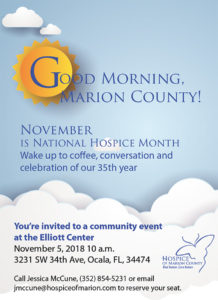 When a group of healthcare providers, doctors, nurses and clergymen, got together around the table at the old Brahma Restaurant on the corner of Pine and 17th Street back in 1980, little did they know that their efforts would create the county's only not-for-profit hospice organization, employing nearly 400 people with multiple supporting companies serving 2,500 patients every year. Today, Hospice of Marion County (HMC) is celebrating its 35th anniversary, looking back with pride and boldly into the future to maintain its mission of providing "exceptional compassionate end-of-life care to our community."
One of those people at the table is still practicing at HMC. David F. Elliott, MD, who became the first volunteer medical director of the fledgling agency in 1983 continues part time and is a comforting presence to staff as well as patients. When he reflects on his years with HMC, Dr. Elliott says he never ceases to marvel at the role faith holds for those facing death. A practicing Catholic, he has found that families with a strong spiritual base seem to fare better than those without: "Both faith and family ties have remarkable power for these patients and can make the transition less difficult. Even if someone is alone but once had close family bonds, it makes a difference in the way they face their own passing."
While the philosophy of hospice care never wavers, the way care is delivered has evolved as quickly as technology. New methodologies and pharmacology now ensure patient comfort and family assistance 24-hours a day, every day of the year. What started as a volunteer-based support system is now a multidisciplinary team of professionals, including palliative care physicians and advanced registered nurse practitioners. While 85 per cent of patients receive care at home, others may choose a hospice house when staying at home is no longer an option. Hospice houses are home-like facilities that provide round-the-clock nursing for those who require a higher level of care.
"Looking ahead," says CEO Mary Ellen Poe, "we see more opportunities to provide excellent care by collaborating with physician offices, hospitals, home care agencies and nursing/assisted living facilities. Together we can have a positive impact on the quality of life of each person in our care."
"As we close the chapter on our 35th anniversary, we open the door to the future," she continues. "Hospice of Marion County stands ready on the threshold of experience, excellence and innovation, always with the mission statement at the core of everything we do every day. That's our promise. Today, tomorrow and into the future.