Total Spine and Brain Institute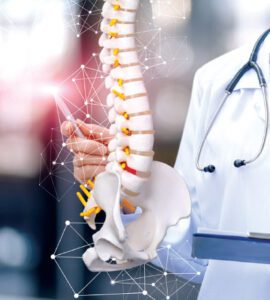 Do you ever feel like doctors do not provide the personalized attention you deserve? Do you feel like you are just a number? Total Spine and Brain Institute provides "World Class Care," and they take pride in treating each patient with the personalized approach that is necessary to build the relationship between their staff and you for optimal results.
They are the experienced experts offering personalized spine care in the Tampa Bay area. Undergoing spine or brain surgery is one of the most important decisions a patient will ever make. That is why you cannot settle on just anyone. Dr. Tien Le is trained in the most cutting-edge neurosurgical techniques, resulting in the most precise surgical care.
The friendly staff at Total Spine & Brain Institute will work with you, your family, and your referring physician to ensure that you receive the best care possible. Dr. Tien V. Le is patient-focused and explains every possible course of action. He listens and treats you with the respect, care, and compassion you deserve. Patient conditions are thoroughly discussed, and options are explained in a way that empowers you to make the best treatment choices. We often focus on treatment options that don't involve surgery whenever possible. Our team works seamlessly to ensure you receive the highest quality of care available.
We are Spine and Brain Experts and Specialize in the Following Procedures and Techniques:
Minimally Invasive Spine Surgery
Minimally invasive spine surgery has revolutionized the field within the last two decades. Prior to its introduction, traditional spine surgery required extensive dissection of the normal tissues surrounding the spine.
Kyphoplasty
A compression fracture or a break in one of your vertebra can be painful. It can also make it difficult to move freely. That's because a break can result in bone fragments rubbing against each other. Surgery can help treat such fractures. For example, kyphoplasty and vertebroplasty are minimally invasive procedures that are often performed together. Usually, they can be done without a hospital stay.
Non-Fusion Spine Surgery For:
CONDITIONS
Carpal Tunnel Syndrome
Ulnar Neuropathy
Spinal Tumors
Non-Fusion Spine Surgery
PROCEDURES
Carpal Tunnel Release (Median Nerve Neurolysis)
Ulnar Nerve Neurolysis (release)
Cervical Spine
CONDITIONS
Radiculopathy / Pinched NerveRadiculopathy / Pinched Nerve
Herniated Disc
Bone Spurs
Spinal Stenosis
Myelopathy
Kyphosis and Deformity
Instability
Fractures
Neck Pain
PROCEDURES
ACDF (Anterior Cervical Discectomy and Fusion)
Artificial Disc Placement to preserve motion (Cervical Arthroplasty)
Anterior Cervical Corpectomy
Posterior Cervical Laminectomy (+/-) Fusion
Posterior Cervical Laminotomy and Foraminotomy
Cervical Stabilization Procedures
Vagal Nerve Stimulator Placement
Thoracic and Lumbar Spine
CONDITIONS
Radiculopathy / Pinched Nerve
Sciatica
Bulging Disc / Disc Protrusion
Herniated Disc
Bone Spurs
Facet Synovial Cyst
Spinal Stenosis
Foraminal Stenosis
Spondylolisthesis
Scoliosis and Deformity
Fractures
Instability
Degenerative Spine Disease
Back Pain
Bulging disc treatment
PROCEDURES
Microscopic Discectomy (Microdiscectomy)
Microscopic Decompressive Laminotomy / Laminectomy
Microscopic Foraminotomy
Percutaneous Instrumentation
Kyphoplasty / Vertebroplasty
Spinal Cord Stimulator
Spinal Fusion Techniques
ALIF (Anterior Lumbar Interbody Fusion)
OLIF (Oblique Lumbar Interbody Fusion)
DLIF / XLIF (Lateral Lumbar Interbody Fusion)
TLIF (Transforaminal Lumbar Interbody Fusion)
PLIF (Posterior Lumbar Interbody Fusion)
Synovial Cyst Resection
Posterolateral Fusion
Reconstructive Spine Surgery
Scoliosis Correction
laminectomy
Brain Surgery
CONDITIONS
Brain Tumors
Meningiomas
Gliomas
Metastases
Facial Pain Syndromes (Trigeminal Neuralgia)
Subdural Hematoma
Chiari Malformation
Intracranial Hemorrhage
Skull Fractures
PROCEDURES
Craniotomy for Tumors
Stereotactic-Navigated Craniotomy for brain tumor resection
Stereotactic-Navigated Brain Biopsy
Burr Hole / Trephine Craniotomy
Suboccipital Craniectomy for Chiari Decompression
Microvascular Decompression of Cranial Nerves
Ommaya Reservoir Placement
Robotic Spine Surgery
At Total Spine & Brain Institute, we specialize in minimally invasive spine surgery and complex spinal disorders. We employ the latest in cutting edge technologies including robotic assisted spinal surgery platforms for better accuracy and results. In fact, Dr. Le was the first surgeon in Hillsborough county to utilize the cutting-edge Mazor X™ technology.
Robotic-assisted spine surgery has many advantages that can lead to a faster recovery time, ultimately returning patients to their active lifestyles faster.
This includes:
Improved surgical accuracy and precision
Smaller incisions
Less risk for surgical complications
Less exposure to radiation
Plus, shorter hospital stays
MAKING THE DECISION TO HAVE SPINE OR BRAIN SURGERY IS COMPLEX, TRUSTING THE EXPERTS SHOULD BE EASY. CONTACT TOTAL SPINE AN BRAIN INSTITUTE TODAY TO FIND OUT MORE ABOUT HOW THEIR TEAM CAN HELP YOU.
ABOUT US – TOTAL SPINE AND BRAIN INSTITUTE'S TEAM
TIEN V. LE, MD, FAANS
Diplomate, American Board of Neurological Surgery
Dr. Tien V. Le is a Board-Certified and dual Fellowship-trained Neurosurgeon who earned his Bachelor's degree in Biology from the University of North Florida, where he graduated summa cum laude with Baccalaureate Honors. He then received his medical degree at the University of South Florida Morsani College of Medicine (USF), having earned the distinction of Neurosurgery Student of the Year during his senior year. His neurosurgery residency training was done at the world-renowned Cleveland Clinic and USF, where he was elected and served as Chief Resident during his final year.
Dr. Le has completed two fellowships in Minimally Invasive Spine Surgery. His first fellowship was during residency at USF where he trained under Dr. Juan Uribe. After completing his residency, Dr. Le was then selected by Dr. Kevin Foley to the prestigious post-graduate Spinal Surgery Fellowship at Semmes-Murphey Neurologic & Spine Institute. While there, he also obtained additional fellowship training in scoliosis, deformity, and complex reconstructive spine surgery with Dr. Julius Fernandez.
Julianne Wilkins, PA-C
Julianne Wilkins grew up in Akron, Ohio. She moved to Florida and received her Bachelor's degree in Nutrition from Florida State University. She then went on to Kent State University, and received a Master's of Science in Nutrition. Upon graduation, she worked as a Clinical Dietitian and was empowered to help people improve their health and quality of life. To further her ability to do so, Julianne went on to the University of South Florida and received her Master's of Science degree in Physician Assistant Studies. Her clinical acumen and passion for the complexity of the neurosciences led her to pursue a career in neurosurgery at Total Spine & Brain Institute, where she is integral in both the operating room and the clinic. Her goal is to provide the best possible care for her patients by helping them understand their medical condition and treatment plan. Outside of work, Julianne enjoys exploring new places, playing softball, and spending time with her friends and family.
Niraj Patel, PA-C
Niraj Patel grew up in the suburbs of Atlanta, Georgia and received his Bachelor's degree in Biochemistry and Molecular Biology from the University of Georgia. He went on to study at Nova Southeastern University in Orlando and received his Master's of Medical Science in Physician Assistant Studies, graduating with highest honors. Following graduation, he moved back to Atlanta to work in primary care and urgent care serving the community that he grew up in. He then built on his excellent outpatient clinical experience in general medicine to propel him to a career in neurosurgery with Total Spine & Brain Institute. Niraj values educating and establishing a personal connection with his patients and guiding them through various treatment options, both surgical and non-surgical. In his leisure time, he likes traveling, exploring different cultures, playing basketball, and going to the gym. Niraj is an avid Georgia Bulldogs, Atlanta Falcons, and Atlanta Hawks fan and enjoys spending quality time with his friends and family.
Tien V. Le, MD, FAANS
Neurological Spine Surgery.
Total Spine & Brain Institute
1110 Nikki View Drive | Brandon, FL 33511
(813) 444-5567 office | (813) 444-5569 fax