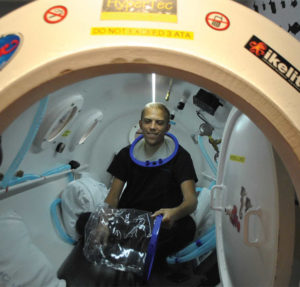 Every year in the United States nearly 800,000 people will suffer from a stroke. If it's not caught early enough, it can lead to death, paralysis, cognitive impairment, aphasia and many more complications. When oxygen and blood can't reach the brain, the brain cells begin to die very rapidly.
Oxygen is the critical element of every cell in our body. Our bodies take in oxygen, and our bloodstream begins to flood our tissues and organs with oxygen-rich blood.
Countless researchers conceive that increasing the supply of oxygen to a stroke patient's damaged brain areas will alleviate brain damage by reducing swelling and regenerating brain matter.
Hyperbaric oxygen therapy (HBOT) is a medical treatment that delivers 100% oxygen to a patient's pulmonary system while they are within a pressurized chamber. This saturation of oxygen allows high-levels of life-sustaining oxygen to be delivered to the tissues and organs. This increase of the partial pressure of oxygen at the cellular level accelerates the healing processes and assists in the recovery from numerous indications.
In 2014 an extensive study called Hyperbaric Oxygen Therapy in Acute Ischemic Stroke, researchers studied Acute Ischemic Stroke patients and how HBOT effects oxidative stress, inflammation, apoptosis, neuroprotection and cerebral blood flow.
They concluded that HBOT combined with thrombolysis seems promising in reducing secondary hemorrhage of ischemic stroke patients which is worthy of further studies.1
Many patients have tried HBOT for various disorders and disease states, and the majority of them will give glowing reviews for disease reversal and regression. There are no guarantees and off-label use is at the person's personal discretion. Individuals wanting to explore HBOT have the right to do so, although results are always based on a patient's overall health, physical condition, and other medical factors.
Hyperbaric Centers of Florida is a premier hyperbaric treatment facility located in the Tampa Bay area. Their state-of-the-art hyperbaric clinic provides therapy to outpatients on a 7-day per week basis, closing only on major holidays.
Currently, There Are 15 FDA Approved HBOT Conditions:
• Air or Gas Embolism
• Carbon Monoxide Poisoning
• Compromised Skin Grafts or Flaps
• Crush Injury, Compartment Syndrome
• Decompression Sickness (Bends)
• Diabetic & Other Non-healing Wounds
• Enhancement of Healing in Selected Problem Wounds
• Exceptional Anemia: Resulting of Bleeding
• Gas Gangrene
• Intracranial Abscess
• Osteomyelitis
• Radiation Injury
• Refractory Osteomyelitis
• Thermal Burns
• Idiopathic Sudden Sensorineural Hearing Loss
HBOT is used "off-label" for various disease states and disorders and HBOT may be ordered by a physician for off-label indications. Hyperbaric Centers of Florida makes no claims as to the efficacy for any indications other than the fifteen approved by FDA.
Common Off-Label Indications:
• Autism
• Brain Injury
• Bells Palsy
• Cerebral Palsy
• Cosmetic Surgery
• Infections
• Inflammations
• Lyme Disease
• Multiple Sclerosis
• Nerve Injuries
• Oral Disease
• Peripheral Neuropathy
• Rheumatoid Arthritis
• Scleroderma
• Shingles
• Severe Migraines
• Sports Injury
• Stroke
• Tendon Injuries
• Ulcerative Colitis
• Venomous snake and spider bites
To find out more, or to schedule your appointment today, please call Hyperbaric Centers of Florida at 813-788-3969.
www.hyperbariccentersofflorida.com
References:
1. Z Ding, Hyperbaric Oxygen Therapy in Acute Ischemic Stroke: A Review, Interv Neurol. 2014 Aug; 2(4): 201–211.