Dr. Brent Carter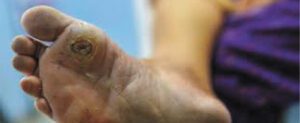 Diabetes is a progressive disease and complicated condition to gain control of, but one of the most painful parts of this disease is the development of diabetic wounds. Often these wounds become "non-healing" due to the adverse effects of the systemic disorder. Millions of people with diabetes will suffer from diabetic foot ulcers more than once in their lifetimes.
High blood sugar damages various organs within the body, but also has a severely adverse effect on nerves. This nerve damage happens when the blood supply is limited. The small blood vessels, which supply blood and nutrients to the nerves becomes impaired. When the nerves are no longer fed nutrients, they either die, or their signals to the brain are ineffective. The lack of brain signaling from the nerve endings makes it difficult for a person to feel pain in their foot, so often injuries and these disorders are overlooked. This syndrome is called peripheral diabetic neuropathy.
Because of this nerve damage, people with diabetes are at a higher risk of developing foot ulcers. A foot wound may not sound overly alarming to most people, but foot ulcers can be life-threatening. These small sores go undetected due to the lack of feeling. If a patient delays treatment, foot ulcers can lead to amputation, strokes, heart attacks and severe infections that can spread throughout the entire body.
If you have ulcers and lacerations that never fully heal, you might have a chronic wound. These are most often caused by diabetes mellitus, which causes blood
vessels in the feet and hands to grow smaller. The restriction of blood flow damages nerve areas and reduces sensation.
Chronic wounds can also be caused by venous stasis, a condition of the veins in the lower legs, which also deprives your feet of adequate blood flow. With both conditions, when you bump or cut your foot or when you develop an ulcer, the lack of blood flow makes it difficult for the wound to heal.
In the endothelial layer of the dermis, vascularization must take place in order to heal the wound. The neovascularization or also known as angiogenesis is when new microvessels, fibroblast, and collagen begin to proliferate and form along with an increase in oxygen uptake and micronutrients to help grow new tissue, and to build a strong vascular blood flow to supply the proper nutrients to the dermal layers.
Wound care includes self-checking your feet and ankles at home for any new cuts, scraps or ulcers. Wound treatment might include any of the following depending on the severity of your condition:
• Antibiotics
• Grafts
• Hyperbaric oxygen treatments
• Saline debridement
• Surgery
• Therapeutic footwear
• Wound care
• Vascular Treatment
Why You Should NEVER Ignore Symptoms
Changes to your foot and ankle health should never be ignored. Warning signs and symptoms are the body's way of signaling us to take the initiative and seek medical intervention.
Swelling, fluid retention, skin color changes, slow hair growth, pain, dry skin, non-healing wounds, and other signs are not a normal part of aging, as many people assume. They are instead indications of circulatory problems, which can lead to adverse conditions quickly.
If left untreated, circulatory issues can lead to vascular disorders. It's critical to seek prompt medical care.
Dr. Brent Carter
Podiatric Physician & Surgeon
(352) 388-4680
www.americanfootankle.com
1714 SW 17th St, Ocala, FL 34471