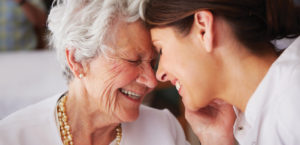 Hospice care is for those with a life-limiting illness.
To be eligible for hospice care, a patient must have a prognosis of six months or less to live from a physician. Studies have shown that when a patient is referred and admitted to a hospice program at the early stage of a prognosis, they often live longer and have better quality of life for the duration of the illness thanks to the care provided by the hospice team.
Non-Hospice palliative care is for those with a chronic illness.
Patients at any age and any stage of a serious, chronic illness can be eligible receive palliative care at the Gulfside Palliative Care clinics. Palliative care is available to you at any time during your illness, and you can receive palliative care at the same time you receive other treatments that are meant to cure your illness.
How do I know if palliative care is the right option?
Palliative care may be right for you if you are experiencing pain, stress and other symptoms due to a serious illness. Serious illnesses include but are not limited to: cancer, cardiac disease, respiratory disease, kidney failure, Alzheimer's, AIDS, amyotrophic lateral sclerosis (ALS) and multiple sclerosis. Palliative care is appropriate at any stage of a serious illness and you can get it along with treatment meant to cure you.
Other signs that palliative care may be helpful for you include: frequent ER visits or hospital admissions for the same condition, functional or cognitive decline, weight loss, increased safety and behavioral concerns, caregiver stress, chronic home oxygen use or limited social and home resources and service support.
How do I know when my loved one is ready for hospice?
Discussing hospice can be a beneficial option at any stage of a life-limiting illness. Patients as well as their families benefit the most when they are supported by the hospice team with physical, mental, emotional, and spiritual support from their hospice team as early as possible.
You or your loved one may be ready for hospice when they have a serious, life-threatening illness with a life expectancy of six months or less, as diagnosed by a physician. This can be a result of numerous illnesses, including heart disease, cancer, dementia, Alzheimer's disease and more.
Comfort care and symptom management become the primary focus when curative treatment is no longer the patient's choice or option. When patients opt to utilize hospice care, they are choosing quality of life over treatment plans that may just delay the inevitable.
Still not sure? The team at Gulfside Healthcare Services can help.
Gulfside offers hospice care for patients facing life-limiting illness, palliative care for those living with a chronic illness, and skilled home health to help people recover from a surgery, illness or injury. The Gulfside team of experts can meet with you and your loved ones to figure out which line of service best suits your unique situation and needs.
It's never too early to start talking about the options available to help you through any situation, whether palliative, hospice or home health. Experts from Gulfside will explain the key patient criteria for each type of care, answer your questions and help you get the care you need.
Gulfside Healthcare Services is a non-profit organization, providing quality care to the community for 30 years. Its three lines of business include Gulfside Hospice, offering care for patients at end of life, Gulfside Palliative Care, providing treatment options for those with chronic illness, and Gulfside Home Health, helping patients stay independent through skilled nursing and rehab at home.
For more information about Gulfside Healthcare Services, visit www.Gulfside.org or call 800-561-4883.