Quick Care Med Urgent Care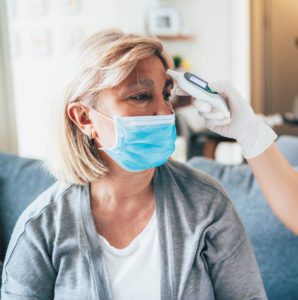 We're starting to see a lot more interaction and activity, such as crowded beaches and businesses reopening. This is great for our economy, but we need to remember that the coronavirus is still lingering out there, and the experts expect it to have a second wave. No matter what we're being told or what we personally believe, it's essential to practice the same precautions that you would during a normal flu season, but with greater intensity than in the past. After all, history does tend to repeat itself, and COVID-19 has not been eradicated.
We all know to practice good hygiene, avoid large crowds, wear a face covering, and avoid touching our faces. If you decide to go to the beach, you can certainly wear a mask, or just stay at least 6 to 10 feet away from others. If you get your hair cut, wear a mask. If you go out to eat, wear a mask into the restaurant and once seated at a safe distance from others, take it off and enjoy your meal. If you are sick, stay home! If you have symptoms of COVID, get tested. This is our new normal.
Telehealth—Virtual Office Visits
Telehealth is still available at Quick Care Urgent Care and recommended if necessary.
Quick Care Med is seeing urgent care patients as usual, but ask that if you have a fever, cough or shortness of breath, that you schedule a telemedicine appointment. All patients are asked to wear a face covering when entering the building and the seating is arranged, so that all patients are kept at a safe distance from each other. Quick Care Med has also implemented even stricter disinfection protocols to keep their entire office and waiting area sanitized. Please be respectful of other people's personal space and keep your children close to you while in the waiting area and treatment rooms.
We're all in this together and we need to be smart to stay safe!
Why Choose Quick Care Med Urgent Care?
If your health needs are not emergent like a heart condition or other impending lifesaving issues, the benefit of urgent care in comparison are numerous. To name a few, the wait time will be much shorter. For the most part, urgent care can see their patients within an hour. The cost is also much less with urgent care than it is with emergency room treatment.
Quick Care Med urgent care provides you with the proper paperwork to follow up with your primary care physician or specialist, as urgent care takes initiatives to keep the line of communication open to make certain that your treatment is a top priority.
There are numerous reasons people go to urgent care, from sore throats, skin infections, school sports physicals, vaccinations, colds and flu, sprains, heat exhaustion, animal bites, dehydration, broken bones and much more. Before you go to the ER, consider if you could instead be treated at urgent care because of the numerous benefits to you and your loved ones.
Quick Care Med Walk-In Clinic & Urgent Care is a comprehensive urgent care clinic with multiple specialties to serve you. Quick Care Med has locations in Marion (Dunnellon and Ocala), Citrus (Crystal River, Inverness, Beverly Hills, and Homosassa), Levy (Williston), Chiefland & Alachua (Newberry) counties that provides immediate walk-in treatment to pediatric and adult patients for illnesses and injuries, wellness exams, and employer health services.
At Quick Care Med, they understand that illness and injuries can happen outside of the normal 9 to 5. That's why they provide Fast, Easy, and Affordable® urgent care with the convenience of extended hours, including weekends and holidays!
From the common cold to a broken bone, Quick Care Med Walk-in and Urgent Care revolves around getting you back to feeling good!
Quick Care Med's QCARD*
Life happens and if you don't have health insurance, things can get pricey rather quickly. Luckily the QCARD is an alternative to conventional health insurance giving you access to the Quick Care medical professionals with ease and affordability. The QCard is a program based for self-pay patients or anyone without medical insurance. Quick Care Med always takes the lead in finding innovative ways to help their communities and their patient demographic. They implemented this program to offer a well-needed resolution for so many individuals and families.
Who can benefit from the QCARD program?
Almost anyone without medical insurance will find QCARD to be a valid answer to their healthcare needs. For example:
1. Headaches
2. Influenza or colds
3. Injuries or trauma
4. Asthma or allergy Issues
5. Twisted ankle
6. Your child has a bad cold or is colicky.
7. And the list goes on and on
*QCARD's copay is $10 per visit. Average medical office visits can be hundreds of dollars.
To find out more about the QCARD program, please visit Quick Care Med online at quickcaremed.com or stop in today.
To Schedule your Telemedicine appointment, please call (844) 797-8425, or visit, www.quickcaremed.com/telemedicine/.
4 Locations in Ocala
3415 E. Silver Springs Blvd, Ocala, FL 34470
(On Silver Springs Blvd. across from Publix)
8119 SW State Rd 200, Ocala, FL 3448
(Just past Walgreens)
6341 N US 441, Ocala, FL 34475
(Across from John Deer)
NEW LOCATION: Chiefland
2205 N Young Blvd, Chiefland, FL 32626